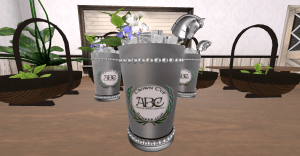 NEW DFS ABC 2018 Summer Crown Cup Mint Julep, made with a splash of Irish Whiskey and fresh mint collected from our DFS Herb Garden. Of course, we added a touch of Baby's Breath to dress up the drink.
Let's enjoy a nice cool Mint Julep today in our awesome Crown Cup!
Check out the recipe: https://www.digitalfarmsystem.com/dfs-recipe-new/
Note: Now, the DFS Herb Garden will randomly provide a DFS Herb – Mint Basket.
https://www.digitalfarmsystem.com/wp-content/uploads/2016/10/dfs-logo.png
0
0
Fairy Catronis
https://www.digitalfarmsystem.com/wp-content/uploads/2016/10/dfs-logo.png
Fairy Catronis
2018-07-12 13:57:49
2018-07-12 13:57:49
*** New Item ***