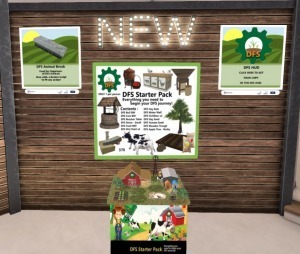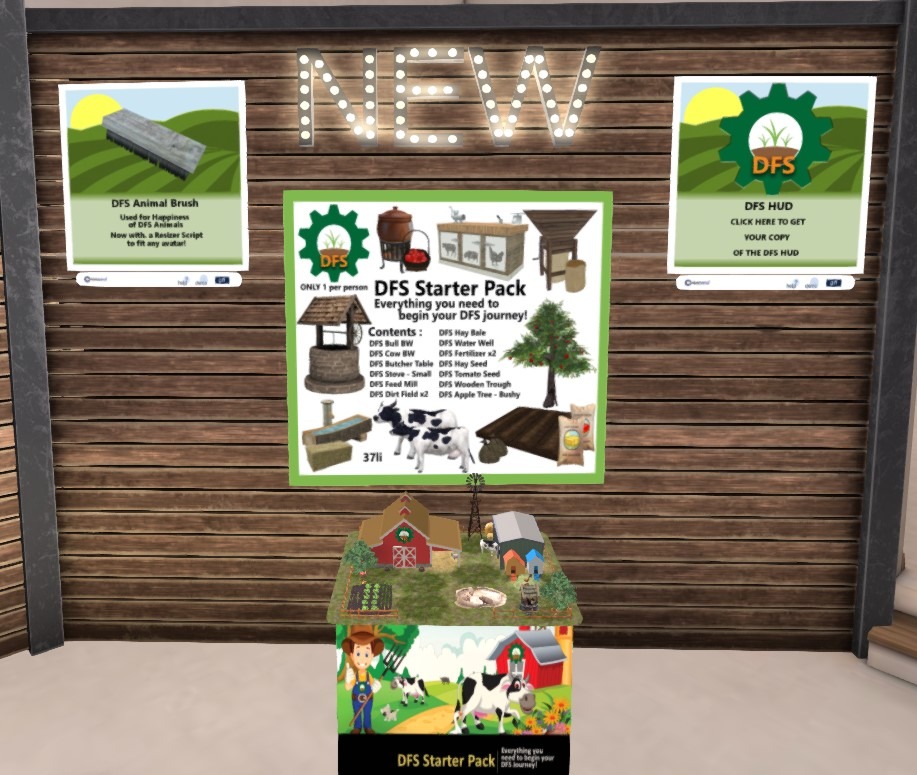 Guide for the New Starter Pack
Farm Tools:
2 x DFS Dirt Field
2 x DFS Fertilizer V2
1 x DFS Water Well
1 x DFS Wooden Trough
Kitchen Appliances:
1 x DFS Stove – Small
1 x DFS Feed Mill
1 x DFS Butcher Table
Supplies:
1 x DFS Cow BW
1 x DFS Bull BW
1 x DFS Tomato Seeds
1 x DFS Hay Seeds
1 x DFS Apple Tree – Bushy
1 x DFS Hay Bale (100)
1 x DFS Tomato Basket
______________________________________________________________________
Ok, let's get started!
There are a few ways you can get started, but we do suggest doing the following:
1.)  Be sure to grab the DFS HUD and DFS Animal brush from the main store and join the DFS: Digital Farm System Group Chat.  The Group is a great way to get in the moment support from other users, and from the DFS Certified Service Representatives (CSR).
2.)  Now that you have DFS HUD, it is time to create your farm, and place items.  Look around and find the best place for your cow, bull, bale of hay, and water trough.  a.) The water trough and bale of hay must be close to the cow and bull. The cow and bulls consume the hay and water automatically all day.  b.) Therefore, you must replenish the hay regularly.  The water trough is filled by water barrels, which are pulled from the well or a water tower (sold separately). You must make sure the water trough stays filled.
3.)  To care for the animal, which you must do daily, wearing the DFS HUD and animal brush, click the animal and from its menu select brush, then sit on the animal, click the Care button on your DFS HUD or use a DFS Mr Clicky. You'll need to do these 3 times to fully care for your animals. Once done you will pop off the animal.
4.)  Your cow will give you a new birth every 9 days, and milk 24 hours after the first birth, and everyday afterwards.  However, she must be place near the bull.  The bull will give you fertilizer every 24 hours.  To obtain both products, please click the animal and select from the listed options.  When slaughter, both animals will provide meat. It is best to slaughter on or after day 21 in the animals 30-days life-cycle.  To get the maximum about of meat, brush the animal and give protein, which is sold separately or can be made.
5.)  Now, set you water well in a location that is accessible from any point on the farm.  As mentioned, you will need water barrels from the well to refill the trough, but you will also need water barrels to water the trees, and your crops.  In addition, you will pull water buckets from the water well for DFS cooking.
6.)  Place the dirt fields in location accessible for daily tending and watering. From your starts kit, rezz the seeds (hay and tomato), and the 2 bags of fertilizer.  Make sure you are wearing your DFS HUD.  Check the HUD to make sure the happy face is still happy and green.  If it is red and sad, do not plant or tend animals.  From your kit, select which of the two seeds you wish to plant.  The hay seeds will take 1 day, 12 hours to harvest and provide one hay bale and a bag of seeds.  The tomato seeds will take 2 days, 12 hours to harvest and provide basket of 8 tomatoes and a bag of seeds.
7.)   Go to the water well.  At this point you are going to pull 6 barrels of water: 2 barrels to place by fields, 2 barrels to place by trough, 2 barrels to place by the trees.  To pull the water from the water well, click the well, select from the options (water buckets or water barrel), select barrel, then sit on the well.  For all the animations, please turn off your AO if wearing on. When done, you will pop off the water well.  The barrels are delivered to your inventory and should be visible in the recent inventory section. Place the barrels near the targeted items, as noted earlier: 2 barrels to place by fields, 2 barrels to place by trough, 2 barrels to place by the trees.
8.)   Once seeds are selected, you are ready to plant.  Click the field, and select from its menu options, you will see three options at this point, fertilize, security, and exit.  Select fertilize, then on the menu select fertilizer again.  You will notice the bag of fertilizer has disappeared into the system.  Now, select water, then select from the available water supply (barrel).  It is time to tend your crops, select tending, and sit on the field.  You will need to water and tend your crops every 23 hours for the best results.
9.)   Place the apple tree in a location accessible for daily care, which must occur every 23 hours or the trees will pause until the necessary care is provided.  Daily care for the trees is water and pruning. As stated earlier, place 2 barrels of water near the trees.  Click the trees and select water, select from the water source, then select prune.  Sit on the tree to prune, use the CARE menu on your DFS HUD. You'll always want to match the center picture to a matching picture in the outer ring. You'll need to do these 3 times to fully care for your tree. Once done you will pop off the tree.
You have completed the basic prep for your farming! Good job! Now, let's set up our kitchen.
As you farm and tend to crop, trees and animals, you will burn energy, which must be replaced by consuming DFS food.  As you continue to farm, you will develop more energy.  Please review the information posted on your DFS HUD and related features.
10.)  Place Kitchen appliances (stove, butcher table) in the desired locations.  You will use the stove to cook your meals and the butcher table to chop and prepare the meats from your cow and bull.  Once you harvest your tomatoes, it is good time to cook your meal! Remember, you can find already made food options in the DFS Official Market or other markets.
11.)   It is always recommended you check the DFS Website (https://www.digitalfarmsystem.com/dfs-recipes/)and the DFSBot (secondlife:///app/agent/15c03168-600a-4a61-9974-0b03fe9d3d9c/about) before cooking to make sure you have the latest recipe. You can use the bot by simply making request in the group chat or messaging the bot directly, with simple commands such as #recipe soup or #uses tomato. The recipe will note which kitchen appliance to use and which number slot to use for each item in the recipe.  Take a moment and look at the recipe for tomato soup:
DFS Tomato Soup
DFS Stove
Slot – Item
2 – DFS Tomato
3 – DFS Tomato
8 – DFS Water Bucket
Time: 00:00:30:
1 Use – 25 EP/use – 1XP
—————————–
12.)   You now know what appliance to use, which slots to use for each item, how long it will take to cook, and how many uses it will have.  In addition, you see how much EP = energy you will gain from consuming this item, and how much cooking XP= experience you will earn from making it.
13.)    So, let's cook our tomato soup! Rezz out all the ingredients and place them on floor near the stove. Now, you need a water bucket, go to the well and do the same action as pulling the water barrel, but this time you are selecting a water bucket.  Looking at the DFS HUD, click craft, which will open the HUD, then click on slot 2, which will turn red, then click the basket of tomatoes, and select cook. It should now be in your HUD, and you will see a picture of a tomato in slot 2.  You will repeat this for slot 3.  To add the water bucket, click the slot, then the water bucket, select cook, and it is now added.  You have all the items added to your HUD in the right slots.
14.)    Now, time to cook the soup on the stove.  Click the stove, all the items are now transferred to the stove.  The stove will display a cooking timer, and when done will provide a message "click to receive".  If you delay in receiving the items it will cook for too long and give you a "recipe failed" message, resulting in an DFS Oopsie, which are nasty, but you can eat them.
You have made your first DFS meal! You are all set! Have fun! Remember, the DFS chat group is a great source of support! Remember, you will do the same to produce DFS Hay Bale to feed your new cows.
DFS Hay Bale (100)
DFS Feed Mill
Slot – Item
8 – DFS Hay Pile
Time : 00:01:00
1 Use – 1 XP
—————————-
———————————————————————————————-
SIMPLE DFS RECIPES – All the recipes for the ingredients are included on this list.
For a complete, up to date list of all our recipes see : https://www.digitalfarmsystem.com/dfs-recipes/
DIFFICULTY
* – very basic, uses only raw materials, low amount of ingredients.
** – slightly more complex, uses at least one prepared ingredient (example: ground beef)
*** – 6 or more ingredients, raw or prepared. Still relatively straight forward recipes.
FARM CONSUMABLES
* DFS Animal Protein –> For harvested meat yield increase
DFS Stove
Slot – Item
2 – DFS Milk Crate
7 – DFS Milk Crate
8 – DFS Apple Basket
Time : 00:01:00
1 Use – 1 XP
—————————-
* DFS Fishing Bait – Normal V1.6
DFS Feed Mill
Slot – Item
4 – DFS Fish – Bass
5 – DFS Fish – Bass
6 – DFS Fish – Bass
8 – DFS Fish – Bass
Time : 00:00:30
1 Use – 1 XP
—————————-
DFS Fishing Bait – Normal V1.6
DFS Feed Mill
Slot – Item
4 – DFS Fish
5 – DFS Fish
6 – DFS Fish
8 – DFS Fish
Time : 00:00:30
1 Use – 1 XP
—————————-
* DFS Hay Bale (100)
DFS Feed Mill
Slot – Item
8 – DFS Hay Pile
Time : 00:01:00
1 Use – 1 XP
—————————-
* DFS Hay Bale (300)
DFS Feed Mill
Slot – Item
7 – DFS Hay Pile
8 – DFS Hay Pile
9 – DFS Hay Pile
Time : 00:01:00
1 Use – 1 XP
—————————-
* DFS Chicken Food: 100
DFS Feed Mill
Slot – Item
2 – DFS Corn Basket
5 – DFS Rice Basket
8 – DFS Water Bucket
Time : 00:05:00
1 Use – 1 XP
—————————-
* DFS Duck Feed (100)
DFS Feed Mill
Slot – Item
1 – DFS Rice Basket
3 – DFS Grapes Basket
5 – DFS Oats Basket
Time : 00:05:00
1 Use – 1 XP
—————————-
*** DFS Goat Feed (300)
DFS Feed Mill
Slot – Item
1 – DFS Rice Basket
2 – DFS Beetroot Basket
3 – DFS Hops Basket
4 – DFS Lettuce Basket
5 – DFS Oats Basket
6 – DFS Watermelon
7 – DFS Apple Basket
Time : 00:10:00
1 Use – 1 XP
—————————-
* DFS Pig Food: 100
DFS Feed Mill
Slot – Item
1 – DFS Corn Basket
4 – DFS Wheat Basket
7 – DFS Water Bucket
Time : 00:05:00
1 Use – 1 XP
—————————-
* DFS Rabbit Food (300)
DFS Feed Mill
Slot – Item
1 – DFS Hay Pile
5 – DFS Lettuce Basket
9 – DFS Broccoli Basket
Time : 00:05:00
1 Use – 1 XP
—————————-
CARPENTRY RECIPES
* DFS Wooden Dowels
DFS Carpentry Desk
Slot – Item
1 – DFS Wooden Pole
2 – DFS Wax
Time : 00:05:00
5 Uses – 3 EP/use – 1 XP
—————————-
* DFS Wooden Plank
DFS Sawmill
Slot – Item
1 – DFS Log
(Comes from pine tree)
Time : 00:05:00
4 Uses – 3 EP/use – 1 XP
—————————-
* DFS Wooden Pole
DFS Sawmill
Slot – Item
2 – DFS Log
(Comes from pine tree)
Time : 00:05:00
4 Uses – 3 EP/use – 1 XP
—————————-
* DFS Wooden Post
DFS Sawmill
Slot – Item
3 – DFS Log
(Comes from pine tree)
Time : 00:05:00
4 Uses – 3 EP/use – 1 XP
—————————-
** DFS Sawdust
DFS Sawmill
Slot – Item
1 – DFS Wooden Plank
2 – DFS Wooden Pole
3 – DFS Wooden Post
Time : 00:02:00
4 Uses – 1 XP
—————————-
** DFS Chair Back
DFS Carpentry Desk
Slot – Item
1 – DFS Wooden Pole
2 – DFS Wooden Plank
3 – DFS Wooden Pole
5 – DFS Wooden Pole
Time : 00:05:00
4 Uses – 1 XP
—————————-
** DFS Chair Leg
DFS Carpentry Desk
Slot – Item
4 – DFS Wooden Pole
6 – DFS Wooden Pole
7 – DFS Wooden Pole
9 – DFS Wooden Pole
Time : 00:05:00
4 Uses – 1 XP
—————————-
** DFS Chair Seat
DFS Carpentry Desk
Slot – Item
2 – DFS Wooden Plank
3 – DFS Wooden Plank
5 – DFS Wooden Plank
6 – DFS Wooden Plank
Time : 00:05:00
4 Uses – 1 XP
—————————-
** DFS Table Leg
DFS Carpentry Desk
Slot – Item
1 – DFS Wooden Post
2 – DFS Wooden Post
4 – DFS Wooden Pole
5 – DFS Wooden Pole
Time : 00:05:00
4 Uses – 1 XP
—————————-
** DFS Table Top
DFS Carpentry Desk
Slot – Item
1 – DFS Wooden Plank
2 – DFS Wooden Plank
4 – DFS Wooden Plank
5 – DFS Wooden Plank
Time : 00:05:00
2 Uses – 1 XP
—————————-
** DFS Shelf – Pallet
DFS Carpentry Desk
Slot – Item
1 – DFS Wooden Plank
2 – DFS Wooden Plank
3 – DFS Nails
4 – DFS Wax
Time : 00:05:00
1 Use – 21 EP/use – 1 XP
—————————-
*** DFS Decor – Rustic Shed
DFS Carpentry Desk
Slot – Item
1 – DFS Wooden Plank
2 – DFS Wooden Plank
4 – DFS Wooden Pole
5 – DFS Wooden Pole
6 – DFS Nails
7 – DFS Wooden Post
8 – DFS Wooden Post
Time : 00:10:00
1 Use – 1 XP
—————————-
** DFS Flowers Growing Geranium – Rustic
DFS Carpentry Desk
Slot – Item
1 – DFS Wooden Plank
2 – DFS Wooden Plank
3 – DFS Wooden Post
4 – DFS Flowers – Geranium Basket
5 – DFS Flowers – Geranium Basket
6 – DFS Nails
Time : 00:10:00
1 Use – 1 XP
—————————-
** DFS Sunflower Garden Post (Decor)
DFS Carpentry Desk
Slot – Item
1 – DFS Flowers – Sunflowers Basket
2 – DFS Flowers – Sunflowers Basket
3 – DFS Fabric Bolt – Bee My Queen
4 – DFS Wooden Pole
5 – DFS Wax
6 – DFS Nails
Time : 00:10:00
1 Use – 1 XP
—————————-
WOOLEN CRAFTS
** DFS Fabric – Dyenamic Blue
DFS Cauldron
Slot – Item
1 – DFS Salt Mill
2 – DFS Vinegar
3 – DFS Berry Basket
4 – DFS Grapes Basket
Time : 00:05:00
4 Uses – 12 EP/use – 1 XP
—————————-
** DFS Fabric – Dyenamic Green
DFS Cauldron
Slot – Item
1 – DFS Vinegar
2 – DFS Salt Mill
3 – DFS Flowers – Chive Basket
4 – DFS Cucumber Basket
Time : 00:05:00
4 Uses – 12 EP/use – 1 XP
—————————-
** DFS Fabric – Dyenamic Red
DFS Cauldron
Slot – Item
1 – DFS Strawberry Basket
2 – DFS Flowers – Lily Basket
3 – DFS Vinegar
4 – DFS Salt Mill
Time : 00:05:00
4 Uses – 12 EP/use – 1 XP
—————————-
** DFS Fabric – Dyenamic Yellow
DFS Cauldron
Slot – Item
1 – DFS Lemon Basket
2 – DFS Vinegar
3 – DFS Salt Mill
4 – DFS Pineapple
Time : 00:05:00
4 Uses – 12 EP/use – 1 XP
—————————-
* DFS Wool Threads
DFS Spinning Wheel
Slot – Item
9 – DFS Wool Basket
Time : 00:05:00
2 Uses – 5 EP/use – 1 XP
—————————-
INGREDIENT RECIPES – low EP, or better consumed as a part of a bigger recipe
* DFS Applesauce
DFS Prep Table
Slot – Item
2 – DFS Apple Basket
3 – DFS Apple Basket
8 – DFS Water Bucket
Time : 00:01:00
1 Use – 7 EP/use – 1 XP
—————————-
** DFS Basic Dough
DFS Prep Table
Slot – Item
1 – DFS Flour
2 – DFS Water Bucket
3 – DFS Butter
4 – DFS Egg Basket
Time : 00:02:00
1 Use – 20 EP/use – 1 XP
—————————-
* DFS Boiled Rice
DFS Stove
Slot – Item
4 – DFS Rice Basket
8 – DFS Water Bucket
Time : 00:01:00
1 Use – 8 EP/use – 1 XP
—————————-
** DFS Bowl of Gelatin
DFS Stove
Slot – Item
1 – DFS Water Bucket
4 – DFS Honey Jar
5 – DFS Gumdrop Candies (Comes from DFS Gumdrop Tree)
6 – DFS Honey Jar
9 – DFS Water Bucket
Time : 00:02:00
4 Uses – 6 EP/use – 1 XP
—————————-
* DFS Butter
DFS Butter Churn
Slot – Item
6 – DFS Milk Crate
8 – DFS Milk Crate
Time : 00:01:00
2 Uses – 6 EP/use – 1 XP
—————————-
* DFS Butter – Cocoa
DFS Butter Churn
Slot – Item
1 – DFS Cocoa Bean Basket
2 – DFS Cocoa Bean Basket
3 – DFS Cocoa Bean Basket
4 – DFS Water Bucket
Time : 00:05:00
4 Uses – 7 EP/use – 1 XP
—————————-
* DFS Butter – Shea
DFS Butter Churn
Slot – Item
1 – DFS Nut Basket (Same as DFS Xmas Box Of Nuts)
2 – DFS Nut Basket (Same as DFS Xmas Box Of Nuts)
3 – DFS Nut Basket (Same as DFS Xmas Box Of Nuts)
4 – DFS Water Bucket
Time : 00:05:00
4 Uses – 5 EP/use – 1 XP
—————————-
** DFS Blood Sausages
DFS Stove
Slot – Item
1 – DFS Pork Carcass
2 – DFS Pork Carcass
3 – DFS Pork Carcass
4 – DFS Oats Basket
5 – DFS Onion Basket
6 – DFS Herb
7 – DFS Salt Mill
Time : 00:05:00
4 Uses – 10 EP/use – 1 XP
—————————-
** DFS Candy Cane Jar Blueberry
DFS Stove
Slot – Item
1 – DFS Sugar
2 – DFS Honey Jar
3 – DFS Berry Basket
Time : 00:04:00
10 Uses – 2 EP/use – 1 XP
—————————-
** DFS Candy Cane Jar Mint
DFS Stove
Slot – Item
1 – DFS Sugar
2 – DFS Honey Jar
3 – DFS Herb
Time : 00:04:00
10 Uses – 2 EP/use – 1 XP
—————————-
** DFS Candy Cane Jar Strawberry
DFS Stove
Slot – Item
1 – DFS Sugar
2 – DFS Honey Jar
3 – DFS Strawberry Basket
Time : 00:04:00
10 Uses – 2 EP/use – 1 XP
—————————-
* DFS Cannabis – Premium
DFS Grinder
Slot – Item
1 – DFS Cannabis Basket
2 – DFS Cannabis Basket
Time : 00:02:00
2 Uses – 8 EP/use – 1 XP
—————————-
* DFS Cheese
DFS Cheese Press
Slot – Item
1 – DFS Milk Crate
3 – DFS Milk Crate
9 – DFS Wax
Time : 00:21:40
6 Uses – 8 EP/use – 1 XP
—————————-
* DFS Chicken Breast
DFS Butcher Table
Slot – Item
5 – DFS Whole Raw Chicken
Time : 00:02:00
1 Use – 8 EP/use – 1 XP
—————————-
* DFS Chicken Leg
DFS Butcher Table
Slot – Item
2 – DFS Whole Raw Chicken
Time : 00:02:00
1 Use – 8 EP/use – 1 XP
—————————-
* DFS Chicken Pieces
DFS Butcher Table
Slot – Item
8 – DFS Whole Raw Chicken
Time : 00:02:00
1 Use – 8 EP/use – 1 XP
—————————-
** DFS Chocolate Bar
DFS Stove
Slot – Item
2 – DFS Milk Crate
4 – DFS Sugar
9 – DFS Cocoa
Time : 00:03:00
2 Uses – 10 EP/use – 1 XP
—————————-
* DFS Cleaned Barley
DFS Prep Table
Slot – Item
5 – DFS Barley Basket
Time : 00:01:30
1 Use – 8 EP/use – 1 XP
—————————-
* DFS Cocoa
DFS Mortar and Pestle
Slot – Item
5 – DFS Cocoa Bean Basket
Time : 00:01:00
2 Uses – 4 EP/use – 1 XP
—————————-
** DFS Coconut Milk
DFS Juicer
Slot – Item
1 – DFS Shredded Coconut
2 – DFS Shredded Coconut
3 – DFS Water Bucket
4 – DFS Sugar
Time : 00:02:00
2 Uses – 12 EP/use – 1 XP
—————————-
* DFS Corn Tortilla
DFS Stove
Slot – Item
1 – DFS Corn Basket
2 – DFS Corn Basket
8 – DFS Water Bucket
Time : 00:02:00
4 Uses – 4 EP/use – 1 XP
—————————-
** DFS Corned Beef
DFS Butcher Table
Slot – Item
1 – DFS Beef Carcass
2 – DFS Salt Mill
3 – DFS Sugar
4 – DFS Herb
5 – DFS Water Bucket
Time : 00:05:00
1 Use – 25 EP/use – 1 XP
—————————-
* DFS Cream
DFS Stove
Slot – Item
2 – DFS Milk Crate
4 – DFS Milk Crate
Time : 00:01:00
2 Uses – 6 EP/use – 1 XP
—————————-
** DFS Cream Cheese
DFS Cheese Press
Slot – Item
1 – DFS Cream
2 – DFS Cream
3 – DFS Cream
4 – DFS Milk Crate
5 – DFS Milk Crate
6 – DFS Lemon Basket
7 – DFS Salt Mill
Time : 00:05:00
4 Uses – 12 EP/use – 1 XP
—————————-
** DFS Cream Cheese Icing
DFS Prep Table
Slot – Item
1 – DFS Butter
2 – DFS Butter
3 – DFS Cream Cheese
4 – DFS Cream Cheese
5 – DFS Sugar
6 – DFS Vanilla Basket
Time : 00:05:00
2 Uses – 29 EP/use – 1 XP
—————————-
** DFS Coffee – Breakfast Blend
DFS Mortar and Pestle
Slot – Item
1 – DFS Ground Coffee
2 – DFS Ground Coffee
3 – DFS Ground Cinnamon
4 – DFS Vanilla Basket
Time : 00:10:00
4 Uses – 9 EP/use – 1 XP
—————————-
** DFS Deli Sliced Ham
DFS Butcher Table
Slot – Item
1 – DFS Roasted Ham
2 – DFS Paper
Time : 00:05:00
4 Uses – 6 EP/use – 1 XP
—————————-
** DFS Duck Sauce
DFS Stove
Slot – Item
1 – DFS Applesauce
2 – DFS Vinegar
3 – DFS Sugar
4 – DFS Mustard
5 – DFS Water Bucket
Time : 00:05:00
6 Uses – 12 EP/use – 1 XP
—————————-
** DFS Dressings Ranch
DFS Prep Table
Slot – Item
1 – DFS Cream
3 – DFS Cream
4 – DFS Herb
5 – DFS Herb
6 – DFS Herb
7 – DFS Egg Basket
8 – DFS Butter
9 – DFS Onion Basket
Time : 00:03:00
3 Uses – 18 EP/use – 1 XP
—————————-
* DFS Flour
DFS Mortar and Pestle
Slot – Item
7 – DFS Wheat Basket
Time : 00:01:00
2 Uses – 4 EP/use – 1 XP
—————————-
* DFS Flour Tortilla
DFS Stove
Slot – Item
8 – DFS Water Bucket
9 – DFS Flour
Time : 00:01:00
1 Use – 7 EP/use – 1 XP
—————————-
* DFS Fried Bacon
DFS Stove
Slot – Item
5 – DFS Raw Bacon
Time : 00:01:00
1 Use – 4 EP/use – 0 XP
—————————-
** DFS Grape Jelly
DFS Stove
Slot – Item
2 – DFS Grapes Basket
3 – DFS Sugar
8 – DFS Water Bucket
Time : 00:02:00
1 Use – 15 EP/use – 1 XP
—————————-
* DFS Ground Beef
DFS Butcher Table
Slot – Item
5 – DFS Beef Carcass
Time : 00:01:00
1 Use – 7 EP/use – 1 XP
—————————-
* DFS Ground Cinnamon
DFS Mortar and Pestle
Slot – Item
5 – DFS Cinnamon Basket
Time : 00:01:00
1 Use – 7 EP/use – 1 XP
—————————-
* DFS Ground Coffee
DFS Mortar and Pestle
Slot – Item
5 – DFS Coffee Basket
Time : 00:01:00
2 Uses – 4 EP/use – 1 XP
—————————-
* DFS Ground Mustard
DFS Mortar and Pestle
Slot – Item
5 – DFS Raw Mustard Basket
Time : 00:01:00
1 Use – 7 EP/use – 1 XP
—————————-
* DFS Honey Jar
DFS Prep Table
Slot – Item
1 – DFS Honey Comb
Time : 00:02:00
1 Use – 5 EP/use – 1 XP
—————————-
* DFS Ice Tray
DFS Freezer
Slot – Item
5 – DFS Water Bucket
Time : 00:02:00
1 Use – 1 XP
—————————-
** DFS Ice Cubes
DFS Freezer
Slot – Item
1 – DFS Ice Tray
3 – DFS Ice Tray
5 – DFS Ice Tray
7 – DFS Ice Tray
9 – DFS Ice Tray
Time : 00:02:00
1 Use – 1 XP
—————————-
** DFS Ice Block
DFS Freezer
Slot – Item
1 – DFS Ice Cubes
2 – DFS Ice Cubes
3 – DFS Ice Cubes
4 – DFS Ice Cubes
5 – DFS Ice Cubes
6 – DFS Ice Cubes
7 – DFS Ice Cubes
8 – DFS Ice Cubes
9 – DFS Ice Cubes
Time : 00:10:00
1 Use – 1 XP
—————————-
*** DFS Ice Cream Cones
DFS Stove
Slot – Item
1 – DFS Sugar
2 – DFS Egg Basket
3 – DFS Vanilla Basket
7 – DFS Milk Crate
8 – DFS Butter
9 – DFS Flour
Time : 00:02:00
4 Uses – 9 EP/use – 1 XP
—————————-
** DFS Ice Cream Topping – Caramel
DFS Stove
Slot – Item
1 – DFS Butter
2 – DFS Vanilla Basket
3 – DFS Cream
4 – DFS Sugar
Time : 00:03:00
4 Uses – 8 EP/use – 1 XP
—————————-
** DFS Ice Cream Topping – Pineapple
DFS Stove
Slot – Item
1 – DFS Pineapple Slices
2 – DFS Pineapple Slices
4 – DFS Ground Cinnamon
5 – DFS Sugar
Time : 00:03:00
4 Uses – 5 EP/use – 1 XP
—————————-
** DFS Ice Cream Topping – Strawberry
DFS Stove
Slot – Item
1 – DFS Strawberry Basket
2 – DFS Strawberry Basket
8 – DFS Sugar
9 – DFS Vanilla Basket
Time : 00:03:00
4 Uses – 7 EP/use – 1 XP
—————————-
** DFS Icing Blueberry
DFS Prep Table
Slot – Item
1 – DFS Berry Basket
2 – DFS Milk Crate
3 – DFS Butter
4 – DFS Vanilla Basket
5 – DFS Sugar
Time : 00:02:00
2 Uses – 15 EP/use – 1 XP
—————————-
** DFS Icing Chocolate
DFS Prep Table
Slot – Item
1 – DFS Cocoa
2 – DFS Milk Crate
3 – DFS Butter
4 – DFS Vanilla Basket
5 – DFS Sugar
Time : 00:02:00
2 Uses – 15 EP/use – 1 XP
—————————-
** DFS Icing Grape
DFS Prep Table
Slot – Item
1 – DFS Grapes Basket
2 – DFS Milk Crate
3 – DFS Butter
4 – DFS Vanilla Basket
5 – DFS Sugar
Time : 00:02:00
2 Uses – 15 EP/use – 1 XP
—————————-
** DFS Icing Lemon
DFS Prep Table
Slot – Item
1 – DFS Lemon Basket
2 – DFS Milk Crate
3 – DFS Butter
4 – DFS Vanilla Basket
5 – DFS Sugar
Time : 00:02:00
2 Uses – 16 EP/use – 1 XP
—————————-
** DFS Icing Mint
DFS Prep Table
Slot – Item
1 – DFS Herb – Mint
2 – DFS Milk Crate
3 – DFS Butter
4 – DFS Vanilla Basket
5 – DFS Sugar
Time : 00:02:00
2 Uses – 16 EP/use – 1 XP
—————————-
** DFS Icing Orange
DFS Prep Table
Slot – Item
1 – DFS Sugar
2 – DFS Milk Crate
3 – DFS Butter
4 – DFS Vanilla Basket
5 – DFS Orange Basket
Time : 00:02:00
2 Uses – 14 EP/use – 1 XP
—————————-
** DFS Icing Peach
DFS Prep Table
Slot – Item
1 – DFS Milk Crate
2 – DFS Sugar
3 – DFS Vanilla Basket
4 – DFS Butter
5 – DFS Peach Basket
Time : 00:05:00
2 Uses – 17 EP/use – 1 XP
—————————-
** DFS Icing Strawberry
DFS Prep Table
Slot – Item
1 – DFS Strawberry Basket
2 – DFS Milk Crate
3 – DFS Butter
4 – DFS Vanilla Basket
5 – DFS Sugar
Time : 00:02:00
2 Uses – 16 EP/use – 1 XP
—————————-
** DFS Icing Vanilla
DFS Prep Table
Slot – Item
1 – DFS Vanilla Basket
2 – DFS Milk Crate
3 – DFS Butter
4 – DFS Vanilla Basket
5 – DFS Sugar
Time : 00:02:00
2 Uses – 15 EP/use – 1 XP
—————————-
** DFS Jams – Strawberry Preserves
DFS Stove
Slot – Item
1 – DFS Strawberry Basket
2 – DFS Strawberry Basket
3 – DFS Strawberry Basket
7 – DFS Sugar
8 – DFS Lemon Basket
9 – DFS Honey Jar
Time : 00:10:00
4 Uses – 11 EP/use – 1 XP
—————————-
** DFS Ketchup
DFS Stove
Slot – Item
1 – DFS Tomato Basket
2 – DFS Onion Basket
3 – DFS Sugar
5 – DFS Water Bucket
Time : 00:02:00
1 Use – 20 EP/use – 1 XP
—————————-
* DFS Lemon Wedges
DFS Prep Table
Slot – Item
1 – DFS Lemon Basket
2 – DFS Lemon Basket
3 – DFS Lemon Basket
Time : 00:02:00
4 Uses – 5 EP/use – 1 XP
—————————-
* DFS Lime Wedges
DFS Prep Table
Slot – Item
1 – DFS Lime Basket
2 – DFS Lime Basket
3 – DFS Lime Basket
Time : 00:02:00
4 Uses – 5 EP/use – 1 XP
—————————-
** DFS Mustard
DFS Stove
Slot – Item
1 – DFS Ground Mustard
4 – DFS Honey Jar
7 – DFS Water Bucket
Time : 00:02:00
1 Use – 15 EP/use – 1 XP
—————————-
* DFS Noodles
DFS Stove
Slot – Item
2 – DFS Milk Crate
7 – DFS Egg Basket
9 – DFS Flour
Time : 00:05:00
4 Uses – 6 EP/use – 1 XP
—————————-
** DFS Oil – Lavender
DFS Fermenter
Slot – Item
1 – DFS Flowers – Lavender Basket (Can use DFS HW Flowers – Lavender Basket)
2 – DFS Oil – Sunflower
Time : 24:00:00
4 Uses – 24 EP/use – 1 XP
—————————-
* DFS Oil – Sunflower
DFS Juicer
Slot – Item
1 – DFS Flowers – Sunflowers Basket
2 – DFS Flowers – Sunflowers Basket
3 – DFS Flowers – Sunflowers Basket
4 – DFS Flowers – Sunflowers Basket
Time : 00:20:00
6 Uses – 8 EP/use – 1 XP
—————————-
** DFS Orange Marmalade
DFS Stove
Slot – Item
2 – DFS Orange Basket
3 – DFS Sugar
8 – DFS Water Bucket
Time : 00:01:00
1 Use – 10 EP/use – 1 XP
—————————-
* DFS Oxtail Cuts
DFS Butcher Table
Slot – Item
1 – DFS Beef Carcass
2 – DFS Beef Carcass
3 – DFS Beef Carcass
4 – DFS Beef Carcass
Time : 00:01:00
4 Uses – 7 EP/use – 1 XP
—————————-
** DFS Paper
DFS Drying Rack
Slot – Item
1 – DFS Sawdust
2 – DFS Sap Bucket (Come from spice tree)
3 – DFS Sawdust
5 – DFS Water Bucket
Time : 00:05:00
4 Uses – 1 XP
—————————-
* DFS PD White Rice Takeout
DFS Stove
Slot – Item
1 – DFS Rice Basket
2 – DFS Rice Basket
3 – DFS Salt Mill
4 – DFS Water Bucket
Time : 00:05:00
4 Uses – 5 EP/use – 1 XP
—————————-
** DFS Peanut Butter
DFS Butter Churn
Slot – Item
1 – DFS Nut Basket (Same as DFS Xmas Box Of Nuts)
2 – DFS Nut Basket (Same as DFS Xmas Box Of Nuts)
3 – DFS Nut Basket (Same as DFS Xmas Box Of Nuts)
4 – DFS Sugar
5 – DFS Oil – Sunflower
Time : 00:05:00
4 Uses – 8 EP/use – 1 XP
—————————-
* DFS Pepperoni
DFS Butcher Table
Slot – Item
1 – DFS Pork Carcass
2 – DFS Beef Carcass
Time : 00:01:00
2 Uses – 6 EP/use – 1 XP
—————————-
** DFS Pie Crust
DFS Oven
Slot – Item
3 – DFS Butter
5 – DFS Flour
8 – DFS Water Bucket
Time : 00:01:00
1 Use – 14 EP/use – 1 XP
—————————-
* DFS Pineapple Slices
DFS Prep Table
Slot – Item
5 – DFS Pineapple
Time : 00:01:00
4 Uses – 2 EP/use – 1 XP
—————————-
* DFS Raisins
DFS Drying Rack
Slot – Item
1 – DFS Grapes Basket
2 – DFS Grapes Basket
3 – DFS Grapes Basket
Time : 00:10:00
3 Uses – 10 EP/use – 1 XP
—————————-
* DFS Raw Bacon
DFS Butcher Table
Slot – Item
5 – DFS Pork Carcass
Time : 00:01:00
4 Uses – 2 EP/use – 0 XP
—————————-
* DFS Raw Ham
DFS Butcher Table
Slot – Item
1 – DFS Pork Carcass
Time : 00:01:00
1 Use – 7 EP/use – 1 XP
—————————-
* DFS Raw Sausages
DFS Butcher Table
Slot – Item
1 – DFS Beef Carcass
2 – DFS Pork Carcass
Time : 00:02:00
3 Uses – 5 EP/use – 1 XP
—————————-
** DFS Raw Sausage Stuffing
DFS Prep Table
Slot – Item
1 – DFS Raw Sausages
2 – DFS Bread
3 – DFS Onion Basket
4 – DFS Butter
5 – DFS Herb
Time : 00:02:00
1 Use – 40 EP/use – 1 XP
—————————-
* DFS Raw Steak
DFS Butcher Table
Slot – Item
2 – DFS Beef Carcass
Time : 00:01:00
1 Use – 7 EP/use – 1 XP
—————————-
* DFS Roasted Salsa
DFS Stove
Slot – Item
1 – DFS Tomato Basket
2 – DFS Tomato Basket
4 – DFS Onion Basket
5 – DFS Hot Pepper Basket
6 – DFS Lime Basket
8 – DFS Herb
9 – DFS Herb
Time : 00:05:00
3 Uses – 15 EP/use – 1 XP
—————————-
* DFS Salmon Fillets
DFS Butcher Table
Slot – Item
1 – DFS Salmon
Time : 00:05:00
2 Uses – 6 EP/use – 1 XP
—————————-
* DFS Salt Mill
DFS Drying Rack
Slot – Item
4 – DFS Saltwater Bucket
5 – DFS Saltwater Bucket
Time : 01:00:00
4 Uses – 1 XP
—————————-
* DFS Sassafras Powder
DFS Drying Rack
Slot – Item
1 – DFS Sassafras Clippings (Come from spice tree)
2 – DFS Sassafras Clippings (Come from spice tree)
3 – DFS Sassafras Clippings (Come from spice tree)
Time : 48:00:00
4 Uses – 1 XP
—————————-
** DFS Sauce – Hollandaise
DFS Stove
Slot – Item
1 – DFS Egg Basket
2 – DFS Lemon Basket
3 – DFS Butter
4 – DFS Herb
5 – DFS Salt Mill
Time : 00:05:00
3 Uses – 10 EP/use – 1 XP
—————————-
** DFS Sauce – Mayonnaise
DFS Prep Table
Slot – Item
1 – DFS Egg Basket
2 – DFS Mustard
3 – DFS Oil – Sunflower
4 – DFS Vinegar
5 – DFS Lemon Basket
Time : 00:05:00
4 Uses – 20 EP/use – 1 XP
—————————-
** DFS Sauce – Tomato
DFS Stove
Slot – Item
1 – DFS Tomato Basket
2 – DFS Herb
3 – DFS Onion Basket
4 – DFS Salt Mill
5 – DFS Carrot Basket
Time : 00:06:40
4 Uses – 8 EP/use – 1 XP
—————————-
* DFS Shark Fillets
DFS Butcher Table
Slot – Item
1 – DFS Shark
Time : 00:05:00
2 Uses – 6 EP/use – 1 XP
—————————-
* DFS Shredded Coconut
DFS Mortar and Pestle
Slot – Item
4 – DFS Coconut Basket
5 – DFS Coconut Basket
6 – DFS Coconut Basket
Time : 00:05:00
4 Uses – 6 EP/use – 1 XP
—————————-
* DFS Sip Root (Limited)
DFS Oven
Slot – Item
2 – DFS Xmas Frozen Sip Root
Time : 00:02:00
2 Uses – 4 EP/use – 1 XP
Ends: 2022-01-28
—————————-
** DFS Sip Root Powder (Limited)
DFS Cauldron
Slot – Item
1 – DFS Sip Root
2 – DFS Cocoa
3 – DFS Cocoa
5 – DFS Herb
Time : 00:02:00
2 Uses – 12 EP/use – 1 XP
Ends: 2022-02-28
—————————-
* DFS Sliced Oranges
DFS Prep Table
Slot – Item
1 – DFS Orange Basket
2 – DFS Orange Basket
3 – DFS Orange Basket
4 – DFS Orange Basket
Time : 00:00:30
2 Uses – 5 EP/use – 1 XP
—————————-
* DFS Sugar
DFS Mortar and Pestle
Slot – Item
5 – DFS Sugarcane Basket
Time : 00:01:00
2 Uses – 4 EP/use – 1 XP
—————————-
** DFS Syrup
DFS Stove
Slot – Item
3 – DFS Sugar
9 – DFS Water Bucket
Time : 00:01:00
1 Use – 7 EP/use – 1 XP
—————————-
** DFS Syrup – Blue Raspberry
DFS Stove
Slot – Item
1 – DFS Sugar
2 – DFS Water Bucket
3 – DFS Berry Basket
4 – DFS Berry Basket
Time : 00:05:00
4 Uses – 6 EP/use – 1 XP
—————————-
*** DFS Syrup – BubbleGum
DFS Stove
Slot – Item
1 – DFS Water Bucket
2 – DFS Sugar
3 – DFS Banana
4 – DFS Pineapple
5 – DFS Herb – Mint
7 – DFS Cinnamon Basket
Time : 00:05:00
4 Uses – 10 EP/use – 1 XP
—————————-
** DFS Syrup – Cherry
DFS Stove
Slot – Item
1 – DFS Cherry Basket
2 – DFS Cherry Basket
3 – DFS Sugar
4 – DFS Water Bucket
Time : 00:05:00
4 Uses – 6 EP/use – 1 XP
—————————-
** DFS Syrup – Grape
DFS Stove
Slot – Item
1 – DFS Grapes Basket
2 – DFS Grapes Basket
3 – DFS Sugar
4 – DFS Water Bucket
Time : 00:05:00
4 Uses – 6 EP/use – 1 XP
—————————-
** DFS Syrup – Green Apple
DFS Stove
Slot – Item
1 – DFS Apple Basket
2 – DFS Apple Basket
3 – DFS Lime Basket
4 – DFS Sugar
5 – DFS Water Bucket
Time : 00:05:00
4 Uses – 6 EP/use – 1 XP
—————————-
** DFS Syrup – Grenadine
DFS Stove
Slot – Item
1 – DFS Cherry Basket
2 – DFS Cherry Basket
3 – DFS Sugar
4 – DFS Water Bucket
5 – DFS Berry Basket
Time : 00:05:00
4 Uses – 8 EP/use – 1 XP
—————————-
** DFS Syrup – Lemon Lime
DFS Stove
Slot – Item
1 – DFS Lemon Wedges
2 – DFS Lemon Wedges
3 – DFS Lime Wedges
4 – DFS Sugar
5 – DFS Water Bucket
Time : 00:05:00
4 Uses – 8 EP/use – 1 XP
—————————-
** DFS Syrup – Molasses
DFS Stove
Slot – Item
1 – DFS Sugarcane Basket
2 – DFS Syrup – Pure Maple
3 – DFS Water Bucket
4 – DFS Honey Jar
Time : 00:30:00
4 Uses – 18 EP/use – 1 XP
—————————-
** DFS Syrup – Orange
DFS Stove
Slot – Item
1 – DFS Orange Basket
2 – DFS Orange Basket
3 – DFS Sugar
4 – DFS Water Bucket
5 – DFS Orange Basket
6 – DFS Orange Basket
Time : 00:05:00
4 Uses – 6 EP/use – 1 XP
—————————-
** DFS Syrup – Pure Maple
DFS Stove
Slot – Item
1 – DFS Sap Bucket (Come from spice tree)
2 – DFS Sap Bucket (Come from spice tree)
3 – DFS Sap Bucket (Come from spice tree)
4 – DFS Paper
Time : 00:30:00
4 Uses – 15 EP/use – 1 XP
—————————-
*** DFS Syrup – Root Beer
DFS Stove
Slot – Item
1 – DFS Sassafras Powder
2 – DFS Herb – Mint
3 – DFS Ground Cinnamon
4 – DFS Vanilla Basket
5 – DFS Berry Basket
6 – DFS Water Bucket
Time : 00:05:00
4 Uses – 16 EP/use – 1 XP
—————————-
** DFS Syrup – Strawberry
DFS Stove
Slot – Item
1 – DFS Strawberry Basket
2 – DFS Strawberry Basket
3 – DFS Sugar
4 – DFS Water Bucket
Time : 00:05:00
4 Uses – 6 EP/use – 1 XP
—————————-
** DFS Syrup – Watermelon
DFS Stove
Slot – Item
1 – DFS Watermelon Slice
2 – DFS Watermelon Slice
3 – DFS Sugar
4 – DFS Water Bucket
Time : 00:05:00
4 Uses – 9 EP/use – 1 XP
—————————-
** DFS Teslik Powder
DFS Cauldron
Slot – Item
1 – DFS Teslik Basket (Same as DFS Xmas Box Of Teslik)
2 – DFS Sugar
3 – DFS Herb
4 – DFS Honey Jar
Time : 00:05:00
2 Uses – 1 XP
—————————-
* DFS Tuna Fillets
DFS Butcher Table
Slot – Item
1 – DFS Tuna
Time : 00:05:00
2 Uses – 6 EP/use – 1 XP
—————————-
** DFS Vinegar
DFS Fermenter
Slot – Item
1 – DFS Water Bucket
3 – DFS Water Bucket
5 – DFS Wine Barrel 2020 (wine of any year)
7 – DFS Water Bucket
9 – DFS Water Bucket
Time : 48:00:00
4 Uses – 25 EP/use – 1 XP
—————————-
* DFS Watermelon Bites
DFS Prep Table
Slot – Item
5 – DFS Watermelon Slice
Time : 00:02:00
4 Uses – 3 EP/use – 1 XP
—————————-
* DFS Watermelon Slice
DFS Prep Table
Slot – Item
5 – DFS Watermelon
Time : 00:01:00
1 Use – 7 EP/use – 1 XP
—————————-
DFS Wax
DFS Prep Table
Slot – Item
2 – DFS Honey Comb
Time : 00:02:00
1 Use – 5 EP/use – 1 XP
—————————-
* DFS Willow Bark Powder
DFS Drying Rack
Slot – Item
1 – DFS Willow Bark Clippings (Same as DFS HW Willow Bark)
2 – DFS Willow Bark Clippings (Same as DFS HW Willow Bark)
Time : 48:00:00
4 Uses – 20 EP/use – 1 XP
—————————-
** DFS Yeast
DFS Stove
Slot – Item
1 – DFS Flour
2 – DFS Sugar
4 – DFS Water Bucket
5 – DFS Water Bucket
6 – DFS Water Bucket
Time : 00:02:00
1 Use – 15 EP/use – 1 XP
—————————-
DRINK RECIPES
** DFS Apple Juice Tray
DFS Juicer
Slot – Item
1 – DFS Apple Basket
2 – DFS Apple Basket
3 – DFS Water Bucket
4 – DFS Sugar
Time : 00:02:00
4 Uses – 3 EP/use – 1 XP
—————————-
** DFS Cran Apple Juice
DFS Juicer
Slot – Item
1 – DFS Cranberry Basket
2 – DFS Cranberry Basket
3 – DFS Apple Basket
4 – DFS Apple Basket
5 – DFS Water Bucket
6 – DFS Sugar
Time : 00:02:00
4 Uses – 6 EP/use – 1 XP
—————————-
** DFS Coffee Breakfast Blend Cup
DFS Coffee Maker
Slot – Item
1 – DFS Coffee – Breakfast Blend
2 – DFS Cream
3 – DFS Sugar
Time : 00:02:00
1 Use – 23 EP/use – 1 XP
—————————-
** DFS Grape Juice
DFS Juicer
Slot – Item
1 – DFS Grapes Basket
2 – DFS Grapes Basket
3 – DFS Water Bucket
4 – DFS Sugar
Time : 00:02:00
4 Uses – 5 EP/use – 1 XP
—————————-
** DFS Lemonade Tray
DFS Juicer
Slot – Item
1 – DFS Sugar
2 – DFS Water Bucket
3 – DFS Water Bucket
4 – DFS Lemon Basket
5 – DFS Lemon Basket
6 – DFS Lemon Basket
7 – DFS Sugar
Time : 00:05:00
4 Uses – 9 EP/use – 1 XP
—————————-
** DFS Orange Juice Tray
DFS Juicer
Slot – Item
1 – DFS Orange Basket
2 – DFS Orange Basket
3 – DFS Water Bucket
4 – DFS Sugar
Time : 00:02:00
4 Uses – 3 EP/use – 1 XP
—————————-
* DFS Snack Pack Banana Milk
DFS Prep Table
Slot – Item
1 – DFS Banana
2 – DFS Banana
3 – DFS Vanilla Basket
7 – DFS Milk Crate
9 – DFS Milk Crate
Time : 00:02:00
1 Use – 30 EP/use – 1 XP
—————————-
** DFS Snack Pack Berry Blast Juice
DFS Prep Table
Slot – Item
1 – DFS Berry Basket
3 – DFS Berry Basket
4 – DFS Strawberry Basket
6 – DFS Strawberry Basket
8 – DFS Apple Juice Glass
(Comes from DFS Apple Juice Tray)
Time : 00:05:00
1 Use – 35 EP/use – 1 XP
—————————-
** DFS Snack Pack Chocolate Milk
DFS Prep Table
Slot – Item
1 – DFS Chocolate Bar
2 – DFS Chocolate Bar
3 – DFS Vanilla Basket
7 – DFS Milk Crate
9 – DFS Milk Crate
Time : 00:02:00
1 Use – 42 EP/use – 1 XP
—————————-
* DFS Snack Pack Strawberry Milk
DFS Prep Table
Slot – Item
1 – DFS Strawberry Basket
2 – DFS Strawberry Basket
3 – DFS Vanilla Basket
7 – DFS Milk Crate
8 – DFS Milk Crate
9 – DFS Milk Crate
Time : 00:02:00
1 Use – 35 EP/use – 1 XP
—————————-
** DFS Snack Pack Super Fruit Punch Juice
DFS Prep Table
Slot – Item
1 – DFS Strawberry Basket
3 – DFS Strawberry Basket
4 – DFS Watermelon Slice
6 – DFS Watermelon Slice
8 – DFS Grape Juice
Time : 00:02:00
1 Use – 40 EP/use – 1 XP
—————————-
* DFS Snack Pack Tropical Twist Juice
DFS Prep Table
Slot – Item
1 – DFS Pineapple Slices
3 – DFS Pineapple Slices
4 – DFS Lemon Basket
6 – DFS Lemon Basket
8 – DFS Banana
Time : 00:02:00
1 Use – 25 EP/use – 1 XP
—————————-
** DFS Soda – Ginger Ale Six Pack
DFS Fermenter
Slot – Item
1 – DFS Syrup – Lemon Lime
2 – DFS Ginger Basket
3 – DFS Water Bucket
4 – DFS Yeast
Time : 120:00:00
6 Uses – 19 EP/use – 1 XP
—————————-
* DFS Soda – Root Beer Six Pack
DFS Fermenter
Slot – Item
1 – DFS Syrup – Root Beer
2 – DFS Sugar
3 – DFS Yeast
4 – DFS Water Bucket
Time : 120:00:00
6 Uses – 20 EP/use – 1 XP
—————————-
* DFS Tea – Apple Cinnamon
DFS Drying Rack
Slot – Item
1 – DFS Apple Basket
2 – DFS Herb
3 – DFS Cinnamon Basket
Time : 24:00:00
4 Uses – 20 EP/use – 1 XP
—————————-
* DFS Tea – Black Tea Box
DFS Mortar and Pestle
Slot – Item
1 – DFS Herb
2 – DFS Herb
3 – DFS Herb
7 – DFS Herb
8 – DFS Herb
9 – DFS Herb
Time : 00:10:00
4 Uses – 11 EP/use – 1 XP
—————————-
* DFS Tea – Calm Chamomile Tea Box
DFS Drying Rack
Slot – Item
1 – DFS Herb – Chamomile Basket
2 – DFS Flowers – Rose Basket
3 – DFS Herb
Time : 02:00:00
4 Uses – 25 EP/use – 1 XP
—————————-
* DFS Tea – Earl Grey
DFS Drying Rack
Slot – Item
1 – DFS Herb
2 – DFS Orange Basket
3 – DFS Lemon Basket
4 – DFS Lime Basket
5 – DFS Herb
Time : 24:00:00
4 Uses – 25 EP/use – 1 XP
—————————-
* DFS Tea – Lavender
DFS Drying Rack
Slot – Item
1 – DFS Flowers – Lavender Basket
(Can use DFS HW Flowers – Lavender Basket)
2 – DFS Herb – Mint
3 – DFS Herb
Time : 24:00:00
4 Uses – 25 EP/use – 1 XP
—————————-
** DFS Tea – Apple Cinnamon Tea Set
DFS Stove
Slot – Item
1 – DFS Tea – Apple Cinnamon
2 – DFS Tea – Apple Cinnamon
3 – DFS Cream
4 – DFS Sugar
5 – DFS Water Bucket
Time : 00:05:00
4 Uses – 18 EP/use – 1 XP
—————————-
** DFS Tea – Earl Grey Tea Set
DFS Stove
Slot – Item
1 – DFS Tea – Earl Grey
2 – DFS Tea – Earl Grey
3 – DFS Cream
4 – DFS Sugar
5 – DFS Water Bucket
Time : 00:05:00
4 Uses – 20 EP/use – 1 XP
—————————-
** DFS Tea – Lavender Tea Set
DFS Stove
Slot – Item
1 – DFS Tea – Lavender
2 – DFS Tea – Lavender
3 – DFS Cream
4 – DFS Sugar
5 – DFS Water Bucket
Time : 00:05:00
4 Uses – 20 EP/use – 1 XP
—————————-
ALCOHOL RECIPES
** DFS Beer Keg 2020
DFS Fermenter
Slot – Item
1 – DFS Hops Basket
2 – DFS Hops Basket
3 – DFS Hops Basket
5 – DFS Yeast
7 – DFS Water Bucket
9 – DFS Water Bucket
Time : 168:00:00
6 Uses – 20 EP/use – 1 XP
—————————-
*** DFS Brewery Banana Bread Beer Keg 2020
DFS Fermenter
Slot – Item
1 – DFS Ground Cinnamon
2 – DFS Banana
3 – DFS Vanilla Basket
4 – DFS Beer Keg 2020
6 – DFS Beer Keg 2020
7 – DFS Sugar
8 – DFS Yeast
9 – DFS Water Bucket
Time : 48:00:00
4 Uses – 40 EP/use – 1 XP
—————————-
** DFS DS Premium Tequila
DFS Still
Slot – Item
1 – DFS Agave Pina Basket
2 – DFS Syrup
3 – DFS Water Bucket
4 – DFS Water Bucket
5 – DFS Water Bucket
Time : 168:00:00
6 Uses – 15 EP/use – 1 XP
—————————-
** DFS DS Pure Vodka
DFS Still
Slot – Item
1 – DFS Potato Basket
2 – DFS Potato Basket
3 – DFS Rice Basket
4 – DFS Yeast
5 – DFS Sugar
6 – DFS Water Bucket
7 – DFS Water Bucket
Time : 168:00:00
6 Uses – 20 EP/use – 1 XP
—————————-
** DFS Meadery Mead 2020
DFS Fermenter
Slot – Item
1 – DFS Honey Jar
2 – DFS Honey Jar
3 – DFS Honey Jar
4 – DFS Water Bucket
5 – DFS Water Bucket
6 – DFS Water Bucket
7 – DFS Yeast
8 – DFS Yeast
9 – DFS Yeast
Time : 168:00:00
5 Uses – 30 EP/use – 1 XP
—————————-
*** DFS PD DS Gin
DFS Still
Slot – Item
1 – DFS Cleaned Barley
2 – DFS Corn Basket
3 – DFS Yeast
4 – DFS Sugar
5 – DFS Berry Basket
6 – DFS Water Bucket
Time : 168:00:00
4 Uses – 31 EP/use – 1 XP
—————————-
** DFS Wine Barrel 2020
DFS Fermenter
Slot – Item
1 – DFS Grape Juice
2 – DFS Grape Juice
3 – DFS Grape Juice
5 – DFS Yeast
7 – DFS Water Bucket
9 – DFS Water Bucket
Time : 168:00:00
6 Uses – 23 EP/use – 1 XP
—————————-
** DFS Winery – Merlot Red Wine 2020
DFS Fermenter
Slot – Item
1 – DFS Grapes Basket
2 – DFS Grapes Basket
3 – DFS Grapes Basket
4 – DFS Water Bucket
5 – DFS Water Bucket
6 – DFS Yeast
7 – DFS Paper
Time : 168:00:00
6 Uses – 1 XP
—————————-
** DFS Wine – Merlot Glass
DFS Prep Table
Slot – Item
1 – DFS Winery – Merlot Red Wine 2020
Time : 00:00:30
1 Use – 28 EP/use – 1 XP
—————————-
** DFS Winery – Moscato White Wine 2020
DFS Fermenter
Slot – Item
1 – DFS Grape Juice
2 – DFS Grape Juice
3 – DFS Grape Juice
4 – DFS Grape Juice
5 – DFS Yeast
6 – DFS Water Bucket
7 – DFS Paper
Time : 168:00:00
6 Uses – 1 XP
—————————-
** DFS Wine – Moscato Glass
DFS Prep Table
Slot – Item
1 – DFS Winery – Moscato White Wine 2020
Time : 00:00:30
1 Use – 28 EP/use – 1 XP
—————————-
** DFS Winery Fig Dessert Wine 2020
DFS Fermenter
Slot – Item
1 – DFS Wine Barrel 2020
2 – DFS Wine Barrel 2020
3 – DFS Fig Basket
4 – DFS Fig Basket
5 – DFS Sugar
6 – DFS Sugar
7 – DFS Honey Jar
Time : 48:00:00
4 Uses – 40 EP/use – 1 XP
—————————-
** DFS PD Winery – Sangria
DFS Prep Table
Slot – Item
1 – DFS Wine Barrel 2020
3 – DFS Wine Barrel 2020
4 – DFS Lemon Basket
5 – DFS Orange Basket
6 – DFS Apple Basket
8 – DFS Berry Basket
Time : 00:05:00
4 Uses – 20 EP/use – 1 XP
—————————-
FOOD RECIPES
*** DFS Appelflappen Platter
DFS Oven
Slot – Item
1 – DFS Apple Basket
2 – DFS Apple Basket
3 – DFS Lemon Basket
4 – DFS Sugar
5 – DFS Ground Cinnamon
6 – DFS Butter
7 – DFS Basic Dough
Time : 00:05:00
4 Uses – 15 EP/use – 1 XP
—————————-
* DFS Asel`s Milk Candies
DFS Stove
Slot – Item
1 – DFS Milk Crate
2 – DFS Sugar
3 – DFS Honey Jar
4 – DFS Milk Crate
5 – DFS Sugar
6 – DFS Honey Jar
7 – DFS Milk Crate
8 – DFS Sugar
9 – DFS Honey Jar
Time : 00:05:00
5 Uses – 10 EP/use – 1 XP
—————————-
** DFS Buttered Popcorn
DFS Stove
Slot – Item
1 – DFS Corn Basket
2 – DFS Corn Basket
3 – DFS Corn Basket
4 – DFS Butter
Time : 00:02:00
1 Use – 27 EP/use – 1 XP
—————————-
** DFS Bread
DFS Oven
Slot – Item
3 – DFS Butter
6 – DFS Milk Crate
8 – DFS Water Bucket
9 – DFS Flour
Time : 00:01:00
3 Uses – 7 EP/use – 1 XP
—————————-
*** DFS Basic Fried Rice
DFS Stove
Slot – Item
1 – DFS Rice Basket
2 – DFS Carrot Basket
3 – DFS Onion Basket
4 – DFS Butter
5 – DFS Herb
6 – DFS Egg Basket
Time : 00:08:20
4 Uses – 12 EP/use – 1 XP
—————————-
** DFS Buttered Corn
DFS Stove
Slot – Item
2 – DFS Butter
5 – DFS Corn Basket
Time : 00:01:00
1 Use – 15 EP/use – 1 XP
—————————-
** DFS Buttered Toast
DFS Oven
Slot – Item
1 – DFS Bread
2 – DFS Butter
Time : 00:01:00
4 Uses – 4 EP/use – 1 XP
—————————-
** DFS Candle – Warm Vanilla Spice
DFS Candle Station
Slot – Item
1 – DFS Wax
3 – DFS Wax
4 – DFS Vanilla Basket
5 – DFS Vanilla Basket
6 – DFS Cinnamon Basket
7 – DFS Cinnamon Basket
9 – DFS Wool Threads
Time : 00:04:00
2 Uses – 22 EP/use – 1 XP
—————————-
** DFS Cheese Burger
DFS Stove
Slot – Item
1 – DFS Bread
2 – DFS Lettuce Basket
3 – DFS Tomato Basket
4 – DFS Ground Beef
5 – DFS Cheese
6 – DFS Mushroom Basket
(Can use DFS HW Toadstools)
Time : 00:05:00
1 Use – 54 EP/use – 1 XP
—————————-
** DFS Chicken Dinner
DFS Prep Table
Slot – Item
1 – DFS Roast Chicken
3 – DFS Roast Chicken
5 – DFS Roast Potatoes
8 – DFS Roast Potatoes
Time : 00:01:00
1 Use – 90 EP/use – 1 XP
—————————-
*** DFS Chicken Enchiladas
DFS Oven
Slot – Item
1 – DFS Corn Tortilla
2 – DFS Cheese
3 – DFS Corn Tortilla
5 – DFS Chicken Pieces
7 – DFS Tomato Basket
8 – DFS Tomato Basket
9 – DFS Hot Pepper Basket
Time : 00:02:00
4 Uses – 13 EP/use – 1 XP
—————————-
** DFS Chicken Soup
DFS Stove
Slot – Item
1 – DFS Chicken Breast
2 – DFS Boiled Rice
3 – DFS Chicken Breast
4 – DFS Bread
6 – DFS Bread
8 – DFS Water Bucket
Time : 00:02:00
4 Uses – 12 EP/use – 1 XP
—————————-
** DFS Chilli
DFS Stove
Slot – Item
1 – DFS Tomato Basket
2 – DFS Onion Basket
3 – DFS Hot Pepper Basket
8 – DFS Ground Beef
Time : 00:01:00
2 Uses – 15 EP/use – 1 XP
—————————-
** DFS Chocolate Chip Cookies
DFS Oven
Slot – Item
1 – DFS Butter
2 – DFS Cocoa
5 – DFS Sugar
6 – DFS Flour
8 – DFS Egg Basket
Time : 00:15:00
4 Uses – 12 EP/use – 1 XP
—————————-
** DFS Cinnamon French Toast
DFS Stove
Slot – Item
1 – DFS Ground Cinnamon
2 – DFS Syrup
5 – DFS Butter
8 – DFS Bread
Time : 00:01:00
1 Use – 32 EP/use – 1 XP
—————————-
*** DFS Cookies – Pecan Sandies
DFS Oven
Slot – Item
1 – DFS Nut Basket (Same as DFS Xmas Box Of Nuts)
2 – DFS Butter
3 – DFS Sugar
4 – DFS Vanilla Basket
5 – DFS Flour
6 – DFS Egg Basket
7 – DFS Nut Basket (Same as DFS Xmas Box Of Nuts)
Time : 00:06:40
4 Uses – 12 EP/use – 1 XP
—————————-
*** DFS Cookies – Scottish Shortbread Tray
DFS Oven
Slot – Item
1 – DFS Flour
2 – DFS Flour
4 – DFS Sugar
5 – DFS Salt Mill
6 – DFS Wooden Pole
7 – DFS Butter
8 – DFS Butter
9 – DFS Chocolate Bar
Time : 00:10:00
10 Uses – 6 EP/use – 1 XP
—————————-
** DFS Corn On The Cob Platter
DFS Stove
Slot – Item
1 – DFS Corn Basket
2 – DFS Corn Basket
3 – DFS Corn Basket
4 – DFS Herb
5 – DFS Butter
6 – DFS Butter
7 – DFS Water Bucket
Time : 00:05:00
4 Uses – 11 EP/use – 1 XP
—————————-
*** DFS Cucumber salad
DFS Prep Table
Slot – Item
1 – DFS Cucumber Basket
2 – DFS Cucumber Basket
3 – DFS Orange Basket
4 – DFS Tomato Basket
5 – DFS Flowers – Chive Basket
6 – DFS Cream
7 – DFS Mustard
8 – DFS Vinegar
9 – DFS Salt Mill
Time : 00:10:00
4 Uses – 25 EP/use – 1 XP
—————————-
** DFS Dinner Rolls
DFS Oven
Slot – Item
1 – DFS Egg Basket
2 – DFS Flour
3 – DFS Butter
5 – DFS Milk Crate
7 – DFS Yeast
8 – DFS Honey Jar
Time : 00:10:00
4 Uses – 15 EP/use – 1 XP
—————————-
*** DFS English Muffins
DFS Stove
Slot – Item
1 – DFS Butter
2 – DFS Flour
3 – DFS Salt Mill
4 – DFS Sugar
5 – DFS Water Bucket
6 – DFS Yeast
7 – DFS Milk Crate
Time : 00:10:00
4 Uses – 14 EP/use – 1 XP
—————————-
** DFS Fancy Crackers
DFS Oven
Slot – Item
1 – DFS Flour
2 – DFS Butter
3 – DFS Milk Crate
4 – DFS Salt Mill
5 – DFS Oil – Sunflower
Time : 00:02:30
4 Uses – 8 EP/use – 1 XP
—————————-
** DFS Fish – Baked
DFS Oven
Slot – Item
1 – DFS Fish
5 – DFS Lemon Wedges
9 – DFS Butter
Time : 00:05:00
1 Use – 23 EP/use – 1 XP
—————————-
* DFS Fish – Grilled
DFS Stove
Slot – Item
1 – DFS Fish
2 – DFS Fish
3 – DFS Fish
4 – DFS Fish
5 – DFS Fish
Time : 00:00:30
1 Use – 20 EP/use – 1 XP
—————————-
** DFS Flat Bottom Oatmeal Pot
DFS Stove
Slot – Item
1 – DFS Oats Basket
2 – DFS Oats Basket
3 – DFS Ground Cinnamon
4 – DFS Butter
5 – DFS Milk Crate
6 – DFS Sugar
Time : 00:02:30
4 Uses – 10 EP/use – 1 XP
—————————-
DFS French Fries
DFS Oven
Slot – Item
4 – DFS Potato Basket
6 – DFS Potato Basket
Time : 00:01:00
1 Use – 12 EP/use – 1 XP
—————————-
* DFS Fruit Bowl – Autumn
DFS Prep Table
Slot – Item
1 – DFS Apple Basket
2 – DFS Apple Basket
3 – DFS Orange Basket
4 – DFS Cranberry Basket
5 – DFS Cranberry Basket
6 – DFS Orange Basket
7 – DFS Pear Basket
8 – DFS Pear Basket
9 – DFS Apple Basket
Time : 00:01:00
4 Uses – 10 EP/use – 1 XP
—————————-
** DFS Garlic Bread
DFS Oven
Slot – Item
1 – DFS Bread
2 – DFS Herb – Garlic
3 – DFS Butter
4 – DFS Herb
5 – DFS Salt Mill
Time : 00:05:00
4 Uses – 9 EP/use – 1 XP
—————————-
** DFS Grape Jelly and Toast
DFS Prep Table
Slot – Item
1 – DFS Bread
2 – DFS Grape Jelly
Time : 00:01:00
1 Use – 27 EP/use – 1 XP
—————————-
DFS Hamburger
DFS Stove
Slot – Item
4 – DFS Bread
9 – DFS Ground Beef
Time : 00:01:00
1 Use – 17 EP/use – 1 XP
—————————-
DFS Hamburger and Fries
DFS Prep Table
Slot – Item
3 – DFS Tomato Basket
8 – DFS French Fries
9 – DFS Hamburger
Time : 00:01:00
1 Use – 40 EP/use – 1 XP
—————————-
DFS Honey Bun
DFS Oven
Slot – Item
2 – DFS Honey Jar
3 – DFS Butter
4 – DFS Bread
Time : 00:15:00
2 Uses – 19 EP/use – 1 XP
—————————-
DFS Honey Graham Crackers
DFS Oven
Slot – Item
1 – DFS Flour
2 – DFS Sugar
3 – DFS Butter
4 – DFS Honey Jar
5 – DFS Milk Crate
6 – DFS Vanilla Basket
7 – DFS Cinnamon Basket
Time : 00:05:00
4 Uses – 12 EP/use – 1 XP
—————————-
** DFS Hotdogs
DFS Prep Table
Slot – Item
1 – DFS Ketchup
3 – DFS Mustard
5 – DFS Raw Sausages
6 – DFS Bread
Time : 00:02:00
2 Uses – 27 EP/use – 1 XP
—————————-
** DFS Ice Cream Tub – French Vanilla
DFS Freezer
Slot – Item
1 – DFS Cream
3 – DFS Egg Basket
5 – DFS Vanilla Basket
7 – DFS Milk Crate
9 – DFS Sugar
Time : 00:05:00
4 Uses – 10 EP/use – 1 XP
—————————-
** DFS Jello Berry Mini Cake
DFS Stove
Slot – Item
1 – DFS Berry Basket
2 – DFS Berry Basket
3 – DFS Sugar
4 – DFS Water Bucket
5 – DFS Bowl of Gelatin
Time : 00:08:00
1 Use – 38 EP/use – 1 XP
—————————-
** DFS Jello Lemon Mini Cake
DFS Stove
Slot – Item
1 – DFS Lemon Basket
2 – DFS Lemon Basket
3 – DFS Sugar
4 – DFS Water Bucket
5 – DFS Bowl of Gelatin
Time : 00:08:00
1 Use – 38 EP/use – 1 XP
—————————-
** DFS Jello Lime Mini Cake
DFS Stove
Slot – Item
1 – DFS Lime Basket
2 – DFS Lime Basket
3 – DFS Sugar
4 – DFS Water Bucket
5 – DFS Bowl of Gelatin
Time : 00:08:00
1 Use – 38 EP/use – 1 XP
—————————-
** DFS Jello Orange Mini Cake
DFS Stove
Slot – Item
1 – DFS Orange Basket
2 – DFS Orange Basket
3 – DFS Sugar
4 – DFS Water Bucket
5 – DFS Bowl of Gelatin
Time : 00:08:00
1 Use – 30 EP/use – 1 XP
—————————-
** DFS Jello Strawberry Mini Cake
DFS Stove
Slot – Item
1 – DFS Strawberry Basket
2 – DFS Strawberry Basket
3 – DFS Sugar
4 – DFS Water Bucket
5 – DFS Bowl of Gelatin
Time : 00:08:00
1 Use – 38 EP/use – 1 XP
—————————-
DFS Jello Watermelon Mini Cake
DFS Stove
Slot – Item
1 – DFS Watermelon
2 – DFS Watermelon
3 – DFS Sugar
4 – DFS Water Bucket
5 – DFS Bowl of Gelatin
Time : 00:08:00
1 Use – 38 EP/use – 1 XP
—————————-
*** DFS Jello Shots Tray
DFS Prep Table
Slot – Item
1 – DFS DS Pure Vodka
2 – DFS Jello Watermelon Mini Cake
3 – DFS Jello Orange Mini Cake
4 – DFS Jello Strawberry Mini Cake
5 – DFS Jello Lemon Mini Cake
6 – DFS Jello Berry Mini Cake
7 – DFS Jello Lime Mini Cake
8 – DFS Wooden Plank
Time : 00:10:00
5 Uses – 66 EP/use – 1 XP
—————————-
DFS Lobster Plate
DFS Stove
Slot – Item
1 – DFS Lobster Bucket
2 – DFS Carrot Basket
3 – DFS Pea Basket
4 – DFS Butter
Time : 00:05:00
4 Uses – 8 EP/use – 1 XP
—————————-
** DFS Marshmallows
DFS Stove
Slot – Item
1 – DFS Bowl of Gelatin
2 – DFS Sugar
3 – DFS Sugar
4 – DFS Syrup
5 – DFS Water Bucket
Time : 00:03:00
2 Uses – 15 EP/use – 1 XP
—————————-
** DFS Marshmallows Smores
DFS Prep Table
Slot – Item
1 – DFS Honey Graham Crackers
2 – DFS Honey Graham Crackers
3 – DFS Marshmallows
4 – DFS Marshmallows
5 – DFS Chocolate Bar
6 – DFS Chocolate Bar
7 – DFS Milk Crate
8 – DFS Milk Crate
Time : 00:03:00
4 Uses – 25 EP/use – 1 XP
—————————-
*** DFS Mashed Potato Dish
DFS Stove
Slot – Item
1 – DFS Potato Basket
2 – DFS Potato Basket
3 – DFS Potato Basket
4 – DFS Potato Basket
5 – DFS Butter
6 – DFS Milk Crate
7 – DFS Cream
8 – DFS Herb
9 – DFS Berry Basket
Time : 00:05:00
4 Uses – 17 EP/use – 1 XP
—————————-
** DFS Mashed Potatoes
DFS Stove
Slot – Item
3 – DFS Butter
6 – DFS Potato Basket
8 – DFS Milk Crate
Time : 00:01:00
2 Uses – 10 EP/use – 1 XP
—————————-
** DFS Mashed Potatoes and Corn
DFS Prep Table
Slot – Item
1 – DFS Corn Basket
6 – DFS Mashed Potatoes
Time : 00:01:00
1 Use – 18 EP/use – 1 XP
—————————-
** DFS Meatloaf and Potatoes
DFS Oven
Slot – Item
3 – DFS Onion Basket
4 – DFS Ground Beef
6 – DFS Bread
7 – DFS Egg Basket
9 – DFS Mashed Potatoes and Corn
Time : 00:15:00
3 Uses – 24 EP/use – 1 XP
—————————-
** DFS Milk and Cookies
DFS Oven
Slot – Item
1 – DFS Butter
2 – DFS Cocoa
5 – DFS Sugar
6 – DFS Flour
8 – DFS Milk Crate
Time : 00:15:00
4 Uses – 11 EP/use – 1 XP
—————————-
** DFS Momma Rayvens Raining Tacos
DFS Stove
Slot – Item
1 – DFS Flour Tortilla
2 – DFS Ground Beef
3 – DFS Tomato Basket
4 – DFS Cheese
5 – DFS Onion Basket
6 – DFS Water Bucket
Time : 00:30:00
3 Uses – 25 EP/use – 1 XP
—————————-
** DFS Nigiri Plate
DFS Butcher Table
Slot – Item
1 – DFS Shark Fillets
2 – DFS Tuna Fillets
3 – DFS Salmon Fillets
4 – DFS Boiled Rice
Time : 00:05:00
4 Uses – 10 EP/use – 1 XP
—————————-
** DFS Onion Rings
DFS Stove
Slot – Item
1 – DFS Flour
3 – DFS Egg Basket
5 – DFS Water Bucket
8 – DFS Onion Basket
Time : 00:01:00
2 Uses – 10 EP/use – 1 XP
—————————-
** DFS Orange Marmalade and Toast
DFS Prep Table
Slot – Item
1 – DFS Bread
2 – DFS Orange Marmalade
Time : 00:01:00
1 Use – 22 EP/use – 1 XP
—————————-
** DFS Oysters on the half shell
DFS Prep Table
Slot – Item
1 – DFS Shellfish Bucket
2 – DFS Lemon Basket
3 – DFS Ice Tray
4 – DFS Shellfish Bucket
Time : 00:05:00
4 Uses – 6 EP/use – 1 XP
—————————-
** DFS Pancakes with Syrup
DFS Stove
Slot – Item
1 – DFS Syrup
3 – DFS Egg Basket
5 – DFS Butter
7 – DFS Milk Crate
8 – DFS Flour
Time : 00:01:00
3 Uses – 12 EP/use – 1 XP
—————————-
** DFS Kids – Pigs-in-a-blanket With Fries Meal
DFS Prep Table
Slot – Item
1 – DFS PD Pigs In A Blanket Tray
2 – DFS Ketchup
3 – DFS French Fries
Time : 00:00:30
1 Use – 63 EP/use – 1 XP
—————————-
** DFS PD Pigs In A Blanket Tray
DFS Oven
Slot – Item
1 – DFS Basic Dough
2 – DFS Raw Sausages
3 – DFS Raw Sausages
4 – DFS Cheese
5 – DFS Cheese
Time : 00:05:00
4 Uses – 15 EP/use – 1 XP
—————————-
*** DFS Panda Cake
DFS Prep Table
Slot – Item
1 – DFS Plain Cake
2 – DFS Plain Cake
3 – DFS Plain Cake
4 – DFS Icing Mint
5 – DFS Icing Vanilla
6 – DFS Icing Chocolate
7 – DFS Icing Blueberry
Time : 00:10:00
6 Uses – 25 EP/use – 1 XP
—————————-
*** DFS Plain Cake
DFS Oven
Slot – Item
1 – DFS Egg Basket
2 – DFS Egg Basket
3 – DFS Flour
4 – DFS Sugar
5 – DFS Vanilla Basket
6 – DFS Butter
7 – DFS Milk Crate
Time : 00:02:00
2 Uses – 20 EP/use – 1 XP
—————————-
** DFS PB&J Sandwich – Grape
DFS Prep Table
Slot – Item
1 – DFS Bread
2 – DFS Peanut Butter
3 – DFS Grape Jelly
4 – DFS Grapes Basket
Time : 00:02:00
2 Uses – 24 EP/use – 1 XP
—————————-
** DFS PB&J Sandwich – Strawberry
DFS Prep Table
Slot – Item
1 – DFS Bread
2 – DFS Peanut Butter
3 – DFS Jams – Strawberry Preserves
4 – DFS Grapes Basket
Time : 00:02:00
2 Uses – 20 EP/use – 1 XP
—————————-
** DFS PD Cannabis Joint
DFS Prep Table
Slot – Item
1 – DFS Cannabis – Premium
2 – DFS Cannabis – Premium
4 – DFS Paper
5 – DFS Paper
Time : 00:05:00
1 Use – 40 EP/use – 1 XP
—————————-
*** DFS PD Cake – Apple And Pear Tart With Cranberries
DFS Oven
Slot – Item
1 – DFS Pie Crust
2 – DFS Pear Basket
3 – DFS Apple Basket
4 – DFS Lemon Wedges
5 – DFS Cranberry Basket
6 – DFS Sugar
7 – DFS Butter
8 – DFS Cinnamon Basket
9 – DFS Herb
Time : 00:10:00
6 Uses – 13 EP/use – 1 XP
—————————-
*** DFS PD Chili and Garlic Roasted Sweet Potatoes
DFS Oven
Slot – Item
1 – DFS Sweet Potato Basket
2 – DFS Sweet Potato Basket
3 – DFS Oil – Sunflower
4 – DFS Hot Pepper Basket
5 – DFS Salt Mill
6 – DFS Herb
7 – DFS Herb – Garlic
Time : 00:05:00
4 Uses – 12 EP/use – 1 XP
—————————-
** DFS PD Cookies – Iced Pecan Sandies
DFS Prep Table
Slot – Item
1 – DFS Cookies – Pecan Sandies
2 – DFS Cookies – Pecan Sandies
3 – DFS Icing Blueberry
4 – DFS Icing Strawberry
5 – DFS Icing Grape
6 – DFS Icing Mint
Time : 00:05:00
4 Uses – 29 EP/use – 1 XP
—————————-
** DFS PD Fig Kunu Tray
DFS Juicer
Slot – Item
1 – DFS Nut Basket (Same as DFS Xmas Box Of Nuts)
2 – DFS Nut Basket (Same as DFS Xmas Box Of Nuts)
3 – DFS Fig Basket
4 – DFS Shredded Coconut
5 – DFS Shredded Coconut
6 – DFS Shredded Coconut
7 – DFS Ground Cinnamon
8 – DFS Vanilla Basket
Time : 00:05:00
4 Uses – 15 EP/use – 1 XP
—————————-
*** DFS PD Gingerbread Dough
DFS Prep Table
Slot – Item
1 – DFS Flour
2 – DFS Egg Basket
3 – DFS Butter
4 – DFS Vanilla Basket
5 – DFS Salt Mill
6 – DFS Ginger Basket
7 – DFS Syrup – Molasses
8 – DFS Sugar
9 – DFS Herb
Time : 00:05:00
2 Uses – 38 EP/use – 1 XP
—————————-
** DFS PD Gingerbread Men Cookie Tray
DFS Oven
Slot – Item
1 – DFS Gumdrop Candies
(Comes from DFS Gumdrop Tree)
2 – DFS PD Gingerbread Dough
3 – DFS Icing Vanilla
Time : 00:05:00
4 Uses – 20 EP/use – 1 XP
—————————-
*** DFS PD Horchata
DFS Stove
Slot – Item
1 – DFS Sugar
2 – DFS Vanilla Basket
3 – DFS Milk Crate
4 – DFS Cinnamon Basket
5 – DFS Rice Basket
6 – DFS Bean Basket
Time : 00:05:00
4 Uses – 11 EP/use – 1 XP
—————————-
*** DFS PD Mint Iced Tea
DFS Prep Table
Slot – Item
1 – DFS Tea – Black Tea Box
2 – DFS Syrup
3 – DFS Strawberry Basket
4 – DFS Lime Wedges
5 – DFS Herb – Mint
6 – DFS Water Bucket
7 – DFS Ice Tray
Time : 00:02:00
1 Use – 45 EP/use – 1 XP
—————————-
*** DFS PD Oxtail Stew
DFS Stove
Slot – Item
1 – DFS Oxtail Cuts
2 – DFS Oxtail Cuts
3 – DFS Tomato Basket
4 – DFS Oil – Sunflower
5 – DFS Carrot Basket
6 – DFS Onion Basket
7 – DFS Hot Pepper Basket
8 – DFS Herb – Garlic
9 – DFS Potato Basket
Time : 00:10:00
4 Uses – 20 EP/use – 1 XP
—————————-
*** DFS PD Pan Fried Bass
DFS Stove
Slot – Item
1 – DFS Fish – Bass
2 – DFS Fish – Bass
3 – DFS Egg Basket
4 – DFS Flour
5 – DFS Salt Mill
6 – DFS Herb – Garlic
7 – DFS Oil – Sunflower
8 – DFS Herb – Basil Basket
9 – DFS Herb
Time : 00:05:00
4 Uses – 14 EP/use – 1 XP
—————————-
*** DFS PD Pie – Pecan
DFS Oven
Slot – Item
1 – DFS Pie Crust
2 – DFS Sugar
3 – DFS Egg Basket
4 – DFS Salt Mill
5 – DFS Vanilla Basket
6 – DFS Water Bucket
7 – DFS Butter
8 – DFS Flour
9 – DFS Nut Basket (Same as DFS Xmas Box Of Nuts)
Time : 00:10:00
6 Uses – 11 EP/use – 1 XP
—————————-
* DFS PD Prime Rib Roast
DFS Oven
Slot – Item
1 – DFS Beef Carcass
2 – DFS Herb
3 – DFS Salt Mill
4 – DFS Beef Carcass
Time : 00:10:00
4 Uses – 8 EP/use – 1 XP
—————————-
** DFS PD Shuku shuku (Nigerian coconut balls)
DFS Oven
Slot – Item
1 – DFS Shredded Coconut
2 – DFS Shredded Coconut
3 – DFS Shredded Coconut
4 – DFS Shredded Coconut
5 – DFS Sugar
6 – DFS Flour
7 – DFS Flour
8 – DFS Egg Basket
9 – DFS Egg Basket
Time : 00:05:00
4 Uses – 17 EP/use – 1 XP
—————————-
* DFS PD Steamed Cabbage
DFS Stove
Slot – Item
1 – DFS Cabbage Basket
2 – DFS Cabbage Basket
3 – DFS Cabbage Basket
5 – DFS Water Bucket
Time : 00:10:00
4 Uses – 8 EP/use – 1 XP
—————————-
*** DFS PD Stroopwaffle
DFS Stove
Slot – Item
1 – DFS Basic Dough
2 – DFS Yeast
3 – DFS Salt Mill
4 – DFS Sugar
5 – DFS Ground Cinnamon
6 – DFS Vanilla Basket
Time : 00:10:00
4 Uses – 20 EP/use – 1 XP
—————————-
** DFS PD Sweet Cornbread
DFS Oven
Slot – Item
1 – DFS Corn Basket
2 – DFS Corn Basket
3 – DFS Basic Dough
4 – DFS Sugar
5 – DFS Salt Mill
6 – DFS Cream
Time : 00:05:00
4 Uses – 13 EP/use – 1 XP
—————————-
** DFS PD Turtle Cake
DFS Prep Table
Slot – Item
1 – DFS Plain Cake
2 – DFS Icing Chocolate
3 – DFS Icing Blueberry
4 – DFS Chocolate Bar
5 – DFS Icing Mint
Time : 00:10:00
4 Uses – 27 EP/use – 1 XP
—————————-
** DFS PD Turtle Cupcakes
DFS Oven
Slot – Item
1 – DFS Gumdrop Candies
(Comes from DFS Gumdrop Tree)
2 – DFS Basic Dough
3 – DFS Icing Blueberry
4 – DFS Icing Blueberry
5 – DFS Icing Mint
Time : 00:05:00
4 Uses – 25 EP/use – 1 XP
—————————-
*** DFS PD Wine and Cheese Tray
DFS Prep Table
Slot – Item
1 – DFS Cheese
2 – DFS Cheese
3 – DFS Wine – Merlot Glass
4 – DFS Wine – Merlot Glass
5 – DFS Pepperoni
6 – DFS Pepperoni
7 – DFS Berry Basket
8 – DFS Strawberry Basket
9 – DFS Grapes Basket
Time : 00:02:00
4 Uses – 33 EP/use – 1 XP
—————————-
** DFS PD Yorkshire Pudding
DFS Oven
Slot – Item
1 – DFS Milk Crate
2 – DFS Flour
3 – DFS Flour
4 – DFS Oil – Sunflower
5 – DFS Egg Basket
6 – DFS Egg Basket
Time : 00:03:00
4 Uses – 10 EP/use – 1 XP
—————————-
** DFS Pear Souffle
DFS Oven
Slot – Item
1 – DFS Pear Basket
2 – DFS Pear Basket
3 – DFS Winery Fig Dessert Wine 2020
4 – DFS Egg Basket
5 – DFS Sugar
6 – DFS Water Bucket
Time : 00:10:00
4 Uses – 20 EP/use – 1 XP
—————————-
*** DFS PF Petfood Sack
DFS Feed Mill
Slot – Item
1 – DFS Chicken Leg
2 – DFS Chicken Breast
3 – DFS Chicken Pieces
4 – DFS Carrot Basket
5 – DFS Boiled Rice
6 – DFS Potato Basket
7 – DFS Ground Beef
8 – DFS Water Bucket
9 – DFS Ground Beef
Time : 00:05:00
4 Uses – 17 EP/use – 1 XP
—————————-
*** DFS Pie – Banana Cream
DFS Oven
Slot – Item
1 – DFS Pie Crust
2 – DFS Banana
3 – DFS Banana
5 – DFS Cream
7 – DFS Vanilla Basket
8 – DFS Cream
9 – DFS Sugar
Time : 00:10:00
6 Uses – 12 EP/use – 1 XP
—————————-
** DFS Pie – Blueberry
DFS Oven
Slot – Item
1 – DFS Berry Basket
2 – DFS Berry Basket
3 – DFS Flour
4 – DFS Salt Mill
6 – DFS Ground Cinnamon
7 – DFS Butter
8 – DFS Sugar
9 – DFS Pie Crust
Time : 00:10:00
6 Uses – 12 EP/use – 1 XP
—————————-
*** DFS Poached Pear with Chocolate and Sweet Cream
DFS Stove
Slot – Item
1 – DFS Pear Basket
2 – DFS Peach Basket
3 – DFS Chocolate Bar
4 – DFS Cream
5 – DFS Ground Cinnamon
6 – DFS Herb – Mint
Time : 00:03:00
1 Use – 50 EP/use – 1 XP
—————————-
* DFS Potato Chips
DFS Stove
Slot – Item
1 – DFS Potato Basket
2 – DFS Potato Basket
3 – DFS Potato Basket
4 – DFS Herb
5 – DFS Herb
Time : 00:05:00
4 Uses – 10 EP/use – 1 XP
—————————-
*** DFS Pretzel With Dip Tray
DFS Oven
Slot – Item
1 – DFS Flour
2 – DFS Flour
3 – DFS Flour
4 – DFS Butter
5 – DFS Yeast
6 – DFS Egg Basket
7 – DFS Water Bucket
8 – DFS Water Bucket
9 – DFS Mustard
Time : 00:03:00
4 Uses – 16 EP/use – 1 XP
—————————-
** DFS Roast Chicken
DFS Oven
Slot – Item
1 – DFS Whole Raw Chicken
3 – DFS Whole Raw Chicken
8 – DFS Butter
Time : 00:01:00
1 Use – 20 EP/use – 1 XP
—————————-
** DFS Roasted Ham
DFS Oven
Slot – Item
1 – DFS Honey Jar
2 – DFS Butter
3 – DFS Herb
4 – DFS Raw Ham
Time : 00:10:00
4 Uses – 10 EP/use – 1 XP
—————————-
** DFS Roasted Ham With Pineapple
DFS Oven
Slot – Item
2 – DFS Pineapple Slices
3 – DFS Butter
5 – DFS Raw Ham
6 – DFS Herb
Time : 00:10:00
4 Uses – 10 EP/use – 1 XP
—————————-
** DFS Roast Potatoes
DFS Oven
Slot – Item
4 – DFS Potato Basket
6 – DFS Potato Basket
8 – DFS Butter
Time : 00:01:00
1 Use – 20 EP/use – 1 XP
—————————-
*** DFS Roasted Duck with Potatoes
DFS Oven
Slot – Item
1 – DFS Roast Potatoes
2 – DFS Duck Crate
3 – DFS Butter
4 – DFS Herb – Garlic
5 – DFS Salt Mill
6 – DFS Oil – Sunflower
7 – DFS Herb
Time : 00:06:40
4 Uses – 18 EP/use – 1 XP
—————————-
*** DFS Runefalls Cheese Cake
DFS Prep Table
Slot – Item
1 – DFS Grape Jelly
2 – DFS Cream
3 – DFS Flour
4 – DFS Cheese
5 – DFS Vanilla Basket
6 – DFS Ground Cinnamon
Time : 00:03:00
1 Use – 54 EP/use – 1 XP
—————————-
** DFS Salmon Sushi & Ikura plate
DFS Butcher Table
Slot – Item
1 – DFS Salmon Fillets
2 – DFS Salmon Fillets
3 – DFS Cucumber Basket
4 – DFS Seaweed Bucket
5 – DFS Boiled Rice
Time : 00:05:00
4 Uses – 11 EP/use – 1 XP
——————————
** DFS Seafood Shark Kebabs
DFS Oven
Slot – Item
1 – DFS Shark Fillets
2 – DFS Tomato Basket
3 – DFS Honey Jar
4 – DFS Pineapple Slices
5 – DFS Wooden Dowels
Time : 00:05:00
4 Uses – 8 EP/use – 1 XP
—————————-
** DFS Shark Steak Plate
DFS Stove
Slot – Item
1 – DFS Shark Fillets
2 – DFS Mashed Potato Dish
3 – DFS Pea Basket
4 – DFS Cream Cheese
5 – DFS Pineapple Slices
Time : 00:05:00
2 Uses – 30 EP/use – 1 XP
—————————-
*** DFS Shepherds Pie
DFS Oven
Slot – Item
1 – DFS Ground Beef
2 – DFS Egg Basket
3 – DFS Mashed Potatoes
4 – DFS Onion Basket
6 – DFS Carrot Basket
8 – DFS Cheese
Time : 00:02:10
1 Use – 48 EP/use – 1 XP
—————————-
** DFS Snack Pack Berry Blast Cupcake
DFS Prep Table
Slot – Item
1 – DFS Plain Cake
2 – DFS Icing Vanilla
3 – DFS Strawberry Basket
4 – DFS Strawberry Basket
5 – DFS Berry Basket
Time : 00:02:00
1 Use – 57 EP/use – 1 XP
—————————-
** DFS Snack Pack BLT Sandwich
DFS Prep Table
Slot – Item
1 – DFS Bread
2 – DFS Lettuce Basket
3 – DFS Tomato Basket
4 – DFS Fried Bacon
5 – DFS Fried Bacon
6 – DFS Fried Bacon
8 – DFS Butter
Time : 00:02:00
1 Use – 42 EP/use – 1 XP
—————————-
** DFS Snack Pack Caramel Dipper
DFS Prep Table
Slot – Item
1 – DFS Ice Cream Topping – Caramel
2 – DFS Apple Basket
3 – DFS Apple Basket
4 – DFS Apple Basket
5 – DFS Ground Cinnamon
6 – DFS Ice Cream Topping – Caramel
Time : 00:05:00
1 Use – 42 EP/use – 1 XP
—————————-
** DFS Snack Pack Caramel Apple Cupcake
DFS Prep Table
Slot – Item
1 – DFS Plain Cake
2 – DFS Ice Cream Topping – Caramel
3 – DFS Ground Cinnamon
4 – DFS Apple Basket
5 – DFS Apple Basket
Time : 00:02:00
1 Use – 50 EP/use – 1 XP
—————————-
** DFS Snack Pack Double Chocolate Cupcake
DFS Prep Table
Slot – Item
1 – DFS Plain Cake
2 – DFS Icing Chocolate
3 – DFS Chocolate Bar
4 – DFS Chocolate Bar
Time : 00:02:00
1 Use – 63 EP/use – 1 XP
—————————-
*** DFS Snack Pack Ham And Cheese Sandwich
DFS Prep Table
Slot – Item
1 – DFS Bread
2 – DFS Deli Sliced Ham
3 – DFS Cheese
4 – DFS Tomato Basket
5 – DFS Lettuce Basket
6 – DFS Mustard
Time : 00:02:00
1 Use – 64 EP/use – 1 XP
—————————-
** DFS Snack Pack Ranch Dipper
DFS Prep Table
Slot – Item
1 – DFS Carrot Basket
3 – DFS Carrot Basket
5 – DFS Dressings Ranch
7 – DFS Tomato Basket
9 – DFS Tomato Basket
Time : 00:02:00
1 Use – 45 EP/use – 1 XP
—————————-
*** DFS Snack Pack Roast Beef Sandwich
DFS Prep Table
Slot – Item
1 – DFS Bread
2 – DFS Butter
3 – DFS Mustard
4 – DFS Lettuce Basket
5 – DFS Raw Steak
6 – DFS Tomato Basket
Time : 00:02:00
1 Use – 55 EP/use – 1 XP
—————————-
** DFS Southern Biscuit
DFS Oven
Slot – Item
1 – DFS Flour
2 – DFS Corn Basket
3 – DFS Milk Crate
4 – DFS Butter
5 – DFS Sugar
Time : 00:05:00
5 Uses – 7 EP/use – 1 XP
—————————-
** DFS Southern Cheesy Grits
DFS Stove
Slot – Item
1 – DFS Corn Basket
2 – DFS Cheese
3 – DFS Butter
4 – DFS Water Bucket
Time : 00:05:50
4 Uses – 8 EP/use – 1 XP
—————————-
** DFS Southern Sausage Gravy
DFS Stove
Slot – Item
1 – DFS Blood Sausages
2 – DFS Flour
3 – DFS Milk Crate
4 – DFS Salt Mill
5 – DFS Oil – Sunflower
Time : 00:05:00
4 Uses – 10 EP/use – 1 XP
—————————-
** DFS Spaghetti and Meat Sauce
DFS Stove
Slot – Item
1 – DFS Noodles
3 – DFS Tomato Basket
5 – DFS Beef Carcass
Time : 00:01:00
1 Use – 20 EP/use – 1 XP
—————————-
*** DFS Spicy Lamb Skewers & bacon
DFS Oven
Slot – Item
1 – DFS Sheep Crate
2 – DFS Hot Pepper Basket
3 – DFS Onion Basket
4 – DFS Tomato Basket
5 – DFS Raw Bacon
6 – DFS Herb – Mint
7 – DFS Lemon Basket
Time : 00:10:00
4 Uses – 12 EP/use – 1 XP
—————————-
* DFS Steak Dinner
DFS Stove
Slot – Item
5 – DFS Raw Steak
Time : 00:05:00
1 Use – 15 EP/use – 1 XP
—————————-
* DFS Steak and Potato
DFS Oven
Slot – Item
1 – DFS Corn Basket
3 – DFS Butter
4 – DFS Potato Basket
7 – DFS Raw Steak
Time : 00:10:00
1 Use – 50 EP/use – 1 XP
—————————-
** DFS Strawberry Tartlets
DFS Oven
Slot – Item
1 – DFS Jams – Strawberry Preserves
2 – DFS Strawberry Basket
5 – DFS Sugar
8 – DFS Pie Crust
Time : 00:10:00
4 Uses – 13 EP/use – 1 XP
—————————-
** DFS Tako & Ikura Plate
DFS Butcher Table
Slot – Item
1 – DFS Tentacle Bucket
2 – DFS Salmon Fillets
3 – DFS Seaweed Bucket
4 – DFS Boiled Rice
Time : 00:05:00
4 Uses – 9 EP/use – 1 XP
—————————-
** DFS Tako & Nigiri
DFS Butcher Table
Slot – Item
1 – DFS Salmon Fillets
2 – DFS Tuna Fillets
3 – DFS Shark Fillets
4 – DFS Tentacle Bucket
5 – DFS Boiled Rice
Time : 00:05:00
4 Uses – 11 EP/use – 1 XP
—————————-
* DFS Tomato Soup
DFS Stove
Slot – Item
2 – DFS Tomato Basket
3 – DFS Tomato Basket
8 – DFS Water Bucket
Time : 00:08:00
1 Use – 25 EP/use – 1 XP
—————————-
** DFS Tortilla Chips
DFS Stove
Slot – Item
1 – DFS Corn Tortilla
2 – DFS Corn Tortilla
3 – DFS Butter
4 – DFS Lime Basket
5 – DFS Herb
6 – DFS Salt Mill
Time : 00:02:00
4 Uses – 8 EP/use – 1 XP
—————————-
*** DFS Tuna Sushi & Nigiri
DFS Butcher Table
Slot – Item
1 – DFS Tuna Fillets
2 – DFS Salmon Fillets
3 – DFS Shark Fillets
4 – DFS Seaweed Bucket
5 – DFS Cucumber Basket
6 – DFS Boiled Rice
Time : 00:05:00
4 Uses – 13 EP/use – 1 XP
—————————-
* DFS Vanilla Pudding
DFS Stove
Slot – Item
2 – DFS Vanilla Basket
5 – DFS Egg Basket
8 – DFS Milk Crate
Time : 00:01:00
2 Uses – 10 EP/use – 1 XP
—————————-
*** DFS Veggie Soup
DFS Stove
Slot – Item
2 – DFS Carrot Basket
3 – DFS Corn Basket
4 – DFS Onion Basket
5 – DFS Potato Basket
6 – DFS Tomato Basket
9 – DFS Water Bucket
Time : 00:02:00
3 Uses – 11 EP/use – 1 XP
—————————-
** DFS Watermelon & Grape Kebab
DFS Prep Table
Slot – Item
1 – DFS Watermelon Bites
2 – DFS Grapes Basket
3 – DFS Wooden Dowels
4 – DFS Lemon Basket
Time : 00:05:00
4 Uses – 6 EP/use – 1 XP
—————————-
** DFS White Cake
DFS Oven
Slot – Item
2 – DFS Icing Vanilla
4 – DFS Egg Basket
6 – DFS Flour
7 – DFS Butter
Time : 00:30:00
8 Uses – 10 EP/use – 1 XP
—————————-
** DFS Yogurt – Plain
DFS Fermenter
Slot – Item
1 – DFS Milk Crate
2 – DFS Milk Crate
3 – DFS Yeast
Time : 92:50:00
4 Uses – 25 EP/use – 1 XP
—————————-
MEDICINE RECIPES
** DFS Second Wine 2020
DFS Fermenter
Slot – Item
1 – DFS Wine Barrel 2020
2 – DFS Wine Barrel 2020
3 – DFS Teslik Powder
Time : 48:00:00
5 Uses – 30 EP/use – 1 XP
—————————-
** DFS Slave Wine 2020
DFS Fermenter
Slot – Item
1 – DFS Wine Barrel 2020