Description
The DFS HUD is the most important tool you require for the system.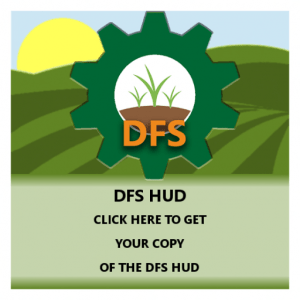 CARE :
Used this option for  Animals, Plants and Trees with Brush/Tend/Prune.
((You do not need them for fields or coops))
HOW TO Use :
* Hover over item with mouse pointer until you see the 'Sit' icon *Left-click to sit on it.
You may need to toggle your AO if it doesn't animate you
* While sitting on the Animals, Plants and Trees with the Brush/Tend/Prune
* Click 'Care' to complete the action.
Win : "Woopie!" happily and costs 5 Energy
—————————————————————————————————
ENERGY BAR :
Visual representation of how much Energy you have. It is found in the gap between the Game & Craft buttons.
You need energy to work on your farm and craft. You will need to cook or buy food to fill it up again.
Green > 80%
Lime < 80%
Yellow < 60%
Orange < 40%
Red < 20%
Click the bar to see your exact Energy amount in Local Chat.
Example : DFS Hud V2.3: 100% (100.00/100.00)
Every day you wear your HUD you gain 1 maximum Energy point. So after a week you might see this instead :
Example : DFS Hud V2.3: 100% (107.00/107.00)
REFILL Energy :
1. Rez a food item – ie DFS Tomato Soup – near you.
2. Click food, and select 'Eat' on the pop up. Item will vanish & 25 energy will be added to your Current Energy.
3. You will see a cute message in Local like –
[06:33] DFS Tomato Soup: Satisfies your hunger and warms your insides, leaving nothing but a smile on your face.
and a message from your Energy Bar stating how much Energy you have now
[06:33] DFS Hud V2.6: Energy : 204 / 313 EP
Experience Points to Energy Points Trade In –
If you earn 1000 XP in Animal/Cooking/Crafting/Farm XP, you can trade it in for a permanent increase of 10 Maximum Energy Points at the Main Store
** You can find more information on your XP further down in Stats section.
—————————————————————————————————
CRAFT :
*Click 'Craft' to open window
*Rez the ingredients near the DFS Kitchen Equipment, Stove in this case.
You can find the recipes here : https://www.digitalfarmsystem.com/dfs-recipes/
Example : Making your first food – Tomato Soup
This is what it looks like on the Recipe web page:
[1] DFS Tomato Soup
DFS Stove
Slot – Item
2 – DFS Tomato
3 – DFS Tomato
8 – DFS Water Bucket
Time : 00:01:00:
1 Use – 25 EP/use – 1 XP
—————————-
DFS Tomato Soup – Recipe name
DFS Stove – Kitchen Equipment needed
Slot – Item – Slot = number on the grid, item = ingredient
2 – DFS Tomato – LOAD a tomato in #2 button
3 – DFS Tomato – LOAD a tomato in #3 button
8 – DFS Water Bucket – LOAD a water bucket in #8 button
Time : 00:00:30: – Cooking time : hours/minutes/seconds
1 Use – 25 EP/use – 1 XP – 1 use of 25 Energy when eaten /
1 Cooking point gained when made
1. Click #2 – It should turn RED, indicating it's ready for the ingredient.
2. Click a rezzed Tomato (You may need to click a Tomato Basket first, to get this item)
3. Wait for a menu to pop up in the top right corner of your screen.
4. Click the 'Cook' button. You should now see a tomato icon on the HUD, indicating it has been loaded successfully :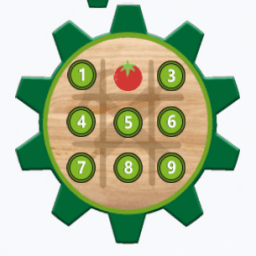 Repeat this process for each ingredient until your HUD looks like this: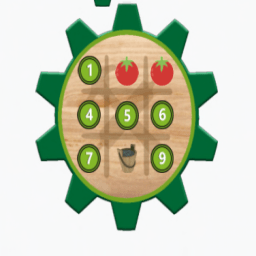 5. Click the Stove and watch Local chat for a confirmation message
[05:54] DFS Hud V2.3: Cooking/Crafting started with DFS Stove.
[05:54] DFS Hud V2.3: Making: DFS Tomato Soup.
6. The stove will then have hovertext counting down the cooking time. When it's ready, it will alert you by text and a 'DING!' sound, so it's a good idea to make sure that volume is turned up.
7. You have the same amount of time it took to cook, after it's ready – to click and receive your food.
Example : Tomato soup took 30 seconds to cook. After it cooks, you have 30 seconds to click the Stove and take it – If you miss, it will BURN! And you will get
an 'Oopsie' item. These are only 1 Energy point!
Wine & beer typically take a week to ferment – so you have a week to take them!
If you accidentally add the wrong ingredient we have a tool to rescue the recipe!
1. Click the wrong item button on your HUD, it should turn RED, then Click your DFS Trashcan. It will send a pop up asking you : "Are you sure you want to trash the selected item?"
2. Click Trash, and it will clear the button so you can then load the correct ingredient.
You will lose that ingredient but save the rest previously loaded in, which is especially useful if it's a large recipe!
—————————————————————————————————
INFORMATION BUTTONS :
1. Server : click to check if the DFS Server is up. You will get a message in Local chat :
Example : DFS Hud V2.3: Server Request status: OK
2. Sim status :
*GREEN – Sim is UP, everything is working fine
*ORANGE – Sim is experiencing issues
*RED – Sim is DOWN. The server will deliver items after the sim comes up but it's preferred that you wait for Green status so it doesn't overload with requests.
3. Facebook : takes you to the DFS Facebook page. Feel free to post pics of your farm!
4. Website : takes you to the DFS Webpage, which features Products, Recipes, Events, News, and Shopping for DFS on the Marketplace.
5. Minimize : Use this to close both GAME or CRAFT windows at once.
You can also just click their buttons again.
6. Stats : Click to see your current stats. The response is sent to the Local Chat :
(13:11] DFS Hud V2.3: Requesting Stats…
[13:11] DFS Hud V2.3:
Animal XP: 553 XP – animal harvesting experience
Cooking XP: 1559 XP – total cooking points
Competition XP: 60 XP – cooking competition points
Crafting XP: 0 XP – Not in use yet –
Energy XP: 41/185 EP – personal energy -> need for work
Farm XP: 333 XP – crop harvesting experience
FREEZER (86) – fuel available for freezer cooking
FREEZER (100) – back up fuel – 1 in this case, if more there
would be more listed underneath
This is where you can see if you have enough XP to trade in and keep an eye on how much more cooking you need to do for the Cooking Competition etc.
7. Profile Page: Please note there might be a delay in updating your profile.
SL Name: [username] Avatar in SL Name
Max EP: 313 EP Maximum Energy your HUD holds
Animal: (65 XP) XP Gained from harvesting from animals
Cooking: (556 XP) XP Gained from cooking
Crafting: (7 XP) XP Gained when doing crafting tasks
Farming: (757 XP) XP Gained, harvesting from plants and fields
8. HUD Settings:
*Sound On / Off – Toggles the sounds on HUD, like "Woopie!"
*Reset : Resets the HUD
TROUBLESHOOTING : If you have any issues or concerns please ask in the DFS Support Group : secondlife:///app/group/bcff7f46-c4f1-b369-cc41-a333e0d03802/about
Reseting the hud