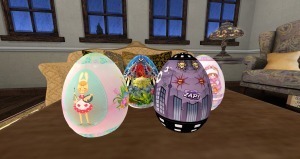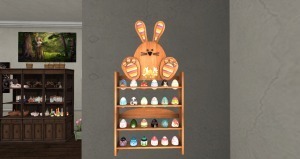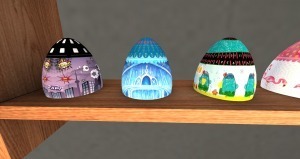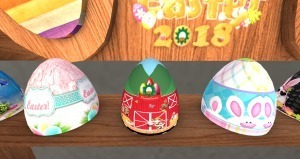 This year, the Easter bunny is under the weather. Therefore, he called his buddies at DFS for a bit of assistance! Always happy to help, DFS went to work and has created a fun collectible chocolate DFS Easter 2018 Eggs. The Easter Eggs have an eat energy of 31. The Easter Eggs come in four delectable flavors: Spicy Chocolate Egg, Pineapple Cream Egg, Lemon Cream Egg and Strawberry Cream Egg. Each flavor has six lovely picture options. It is an excellent collection of 24 DFS Easter 2018 Eggs! Make some to eat and some to collect!
Display the beautiful Easter Eggs in the lovely handcrafted DFS Easter 2018 Egg Collectors Shelf! The shelf is sure to delight you and your guest for years to come. However, remember, once you add the eggs to the lovely shelf, you can no longer eat them! Therefore, make plenty Easter Eggs!
Note: Loading the eggs on the shelf is simple, but please have only one shelf out at a time to ensure the eggs go in the targeted shelf. Simple click eggs and click shelf option and it will automatically load to the available slot. Make sure you have the self is close to the eggs.  LIMITED EDITION: Available until May 1, 2018.
Try some today!
Be sure to check all recipes on the DFS Recipe Website: https://www.digitalfarmsystem.com/dfs-recipes/
https://www.digitalfarmsystem.com/wp-content/uploads/2016/10/dfs-logo.png
0
0
Fairy Catronis
https://www.digitalfarmsystem.com/wp-content/uploads/2016/10/dfs-logo.png
Fairy Catronis
2018-03-29 13:51:55
2018-03-29 13:55:08
DFS Easter 2018 Eggs