Description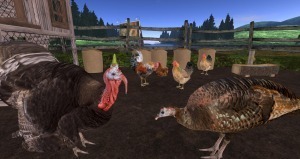 Limited Time Item
DFS Turkeys has lifespan of 10 days, and provide raw whole turkey.  The DFS Turkey are fully grown on Day 6 and will provide 1 meat with 5 uses, before day 6 baby turkeys provide 1 meat with 1 use. Female turkeys can get pregnant once after day 6. They will give you a Male or Female Turkey.
They needs Water, Chicken Food and Care
Care:
Wearing the DFS HUD, you will attached the DFS brush, click to select from the menu one of the following settings, rename, protein, brush, exit or slaughter.
To brush the DFS Turkey, you will need to attached the DFS Animal Brush.  Click Turkey access menu, then select brush and sit on the DFS Turkey, then click CARE on DFS HUD.  Once done, you will pop off the Turkey. (Please note, you may also use Mr Clicky)
However, unlike the other animals, brushing will allow you to reach 100% happiness, without protein.
The DFS Turkeys will eat the same food as their DFS Chicken Coop cousins.
Unlike their DFS Coop cousins, the Turkeys must be in the range of the water trough
Please note, the DFS Turkey will not provide cooking eggs.
Food Consumption is 7% per day
Thirst goes down by 43% per day