Description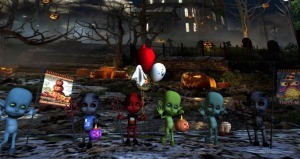 Happy Halloween 2020!
DFS traveled to the far reaches of space and the depths of the firing pits of . . . .  bad places to bring you a few new Halloween friends: demons, and aliens!
Once you craft one of the 24 HW kids, you will see one of the many options!
And yes, there are lots of options!
Eighteen (18) flags
Three (3) ghost balloons
Thirteen (13) foil balloons
Ten (10) regular balloons
Four (4) Candles
Four(4) pumpkin candles
Four (4) head textures
Five (5) shirt textures
Here are the kids
DFS HW Kids – Merlin Mars Lantern
DFS HW Kids – Merlin Mars Candle
DFS HW Kids – Merlin Mars Flag
DFS HW Kids – Merlin Mars Balloons
DFS HW Kids -Samara Saturn Lantern
DFS HW Kids – Samara Saturn Candle
DFS HW Kids – Samara Saturn Flag
DFS HW Kids – Samara Saturn Balloons
DFS HW Kids – Galaxy Gomez Lantern
DFS HW Kids – Galaxy Gomez Candle
DFS HW Kids – Galaxy Gomez Flag
DFS HW Kids – Galaxy Gomez Balloons
DFS HW Kids – Damien Demon Candle
DFS HW Kids – Damien Demon Lantern
DFS HW Kids – Damien Demon Flag
DFS HW Kids – Damien Demon Balloons
DFS HW Kids – Spike Shadow Candle
DFS HW Kids – Spike Shadow Lantern
DFS HW Kids – Spike Shadow Flag
DFS HW Kids – Spike Shadow Balloon
DFS HW Kids – Goblin Ghidora Candle
DFS HW Kids – Goblin Ghidora Lantern
DFS HW Kids – Goblin Ghidora Flag
DFS HW Kids – Goblin Ghidora Balloon
DFS HW Kids – Goblin Gaberiel Lantern
DFS HW Kids – Goblin Gaberiel Lantern