Description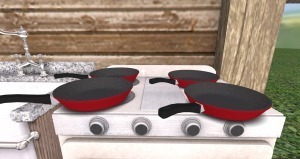 The DFS Frying Pan use to cook food.  The DFS Frying Pan is the modern version of the DFS Stove.  Therefore, any recipe that calls for a DFS Stove, you can use the DFS Frying Pan in its place.
The DFS Frying Pan requires DFS HUD and ingredients.
As with most DFS Kitchen appliance, here are some basic instructions:
Select and check the recipes to ensure the ingredients are loaded into the correct slot on the DFS HUD.
Load the DFS HUD by adding one ingredient at a time to the correct slot number indicated on the recipe. In the event a loading error, please use the DFS trash can. (See DFS Trash Can instructions)
Double-click the appliance to load the DFS HUD ingredients to the appliance, a timer will appear above the appliance
When the cooking is done, the appliance will alert you with a "Bing", and a message to "click to receive" the food item.
If you delay in collecting your food item, you will see a "recipe has failed" message, resulting in an "Oopsie". The item will wait the same about of time it took it to cook, before resulting in and oopsie.
You must clear the content before the appliance can be used again.
Please remember to check recipes on https://www.digitalfarmsystem.com/dfs-recipes/.